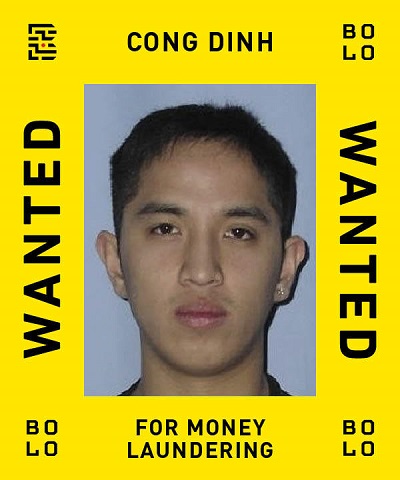 THE RCMP Federal Serious and Organized Crime on Tuesday announced a new strategy and campaign in an effort to locate Cong Dinh of a Vietnamese organized crime group who has been wanted on a Canada-wide warrant since 2013.
In 2013, the Public Prosecution Service of Canada announced charges relating to a joint investigation between the RCMP Federal Serious Organized Crime (FSOC), the California Division of the Internal Revenue Service Criminal Investigation (IRS-CI) and the Drug Enforcement Administration (DEA) in an international money laundering investigation.
The RCMP FSOC, DEA and IRS-CI investigated a Vietnamese Organized Crime (VOC) group allegedly involved in the laundering of approximately $2.7 million dollars obtained from the trafficking of cocaine and ecstasy. The Vietnamese organized crime group had a drug trafficking network allegedly moving ecstasy and marihuana south to the U.S. and cocaine north to Canada that included affiliations in California, Mexico, Australia, Vietnam and across Canada.
In 2010, Minh Nguyen, 32, from Orange County, California, was arrested and plead guilty to money laundering and drug trafficking in relation to this investigation. He received an eight-year sentence in the US.
Cong Dinh, 32, from Burnaby was also charged with five counts of laundering the proceeds of crime and one count of possession of property obtained by crime. A Canada-wide warrant was issued for his arrest. However, Dinh is believed to have fled Canada to Vietnam prior to charges being approved and he has not been located.
Now, in an effort to bring awareness and help locate Dinh, RCMP FSOC is partnering with the Bolo Program that is launching an amplification campaign to run online, in print, television, radio and strategic physical locations throughout the country.
"Dinh and the Vietnamese organized crime group he belonged to is alleged to have laundered millions of dollars from drugs trafficked onto Canadian streets. We are committed to continued collaboration with our domestic and international partners and are hopeful this new relationship with the Bolo Program will be the key in locating Dinh so he can be returned to Canada to answer to these charges," said Chief Superintendent Keith Finn, Officer in Charge of FSOC in BC.
The Bolo Program is a Canadian public safety innovation project which launched in Toronto in May 2018, in cooperation with the Toronto Police Service. Bolo Program's mission is to encourage citizens to be on the lookout for Canada's most wanted so they can help keep communities safe by submitting tips to assist the police to arrest these suspects.
In addition to organizing and funding a media campaign to aid in the arrest of Dinh, the Bolo Program is also offering its reward. In cooperation with Metro Vancouver Crime Stoppers, the Bolo Program is offering a reward up to $50,000 for any information leading to the arrest of Cong Dinh. This reward is available until June 3, 2020.
Crime Stoppers will award the money to anyone who anonymously provides them with information that leads police to Dinh's arrest.