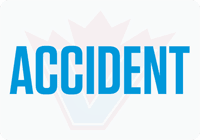 RICHMOND RCMP are asking witnesses to come forward after a vehicle towing a trailer struck a female cyclist on River Drive on the morning of March 17.
Shortly before 9 a.m. on March 17, a frontline officer was patrolling in the area of River Drive and No. 4 Road when he came upon a female cyclist lying on the roadway in apparent medical distress.
Investigation revealed that the 45-year-old female cyclist was hit by a white, newer model pickup truck that was towing a large trailer as she entered onto the roadway from a pedestrian walkway nearby.
The cyclist was transported to a local hospital by Emergency Health Services where she was treated for serious but non-life-threatening injuries.
Cpl. Ian Henderson said on Tuesday: "The female cyclist involved in this collision was injured quite badly. Fortunately, one of our frontline officers came upon her during routine patrols and was able to offer assistance. Our investigators would really like to speak with the driver of the vehicle involved."
If you happened to witness this incident, or if you have dash-cam video, contact the Richmond RCMP at 604-278-1212, quoting file number 21-7094.
Should you wish to remain anonymous, call Crime Stoppers at 1-800-222-TIPS (8477) or visit them online at www.solvecrime.ca