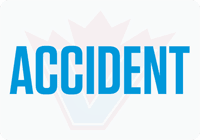 RICHMOND RCMP are investigating after an elderly pedestrian was hit by a vehicle on Railway Avenue on Thursday.
At approximately 5:30 p.m. on February 4, Richmond RCMP responded to a report of a pedestrian being hit by a vehicle on Railway Avenue near the intersection with  Lancing Road.   The driver of the vehicle involved, a grey GMC Sport Utility Vehicle, remained on scene and was cooperative with police.
Emergency Health Services transported the female to a local area hospital, where she remains in serious but stable condition.
Poor visibility and weather were factors in this collision.  Alcohol and speed were not. The investigation continues. 
"This was a tragic incident for everyone involved.  What makes it even more sad it that it was completely preventable," said Cpl. Ian Henderson. "Whether we are drivers or pedestrians – we all have a part to play in promoting pedestrian safety."
If you happened to witness this collision, or if you have dash-cam video of the incident, you are urged to contact the Richmond RCMP at 604-278-1212, quoting file number 21-3291.
Should you wish to remain anonymous, call Crimestoppers at 1-800-222-TIPS (8477).