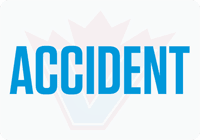 UPDATE (9:35 P.M.)
Surrey RCMP investigators have completed their on-scene investigative activities in response to the collision. Southbound Highway 99 traffic has been reopened.
ON Thursday at approximately 5:45 p.m.,  Surrey RCMP responded to a two-vehicle collision in the 3800-block of Highway 99.
Initial indications are that there are serious potentially life-threatening injuries involved in this collision.Traffic in the area will be affected for an undetermined time as officers continue their investigation. Highway 99 will be shut down for all southbound traffic and will be diverted off the highway at the King George Boulevard / Crescent Road exit. The public are requested to avoid the area until further notice.
The investigation into the collision is in its early stages. Investigators are seeking witnesses who observed the collision, or who observed the vehicles prior to the collision, to contact the Surrey RCMP. Investigators are also seeking any available dash-cam video.
Anyone with more information about this incident, who has not yet spoken to police, is asked to contact Surrey RCMP at 604-599-0502, or Crime Stoppers, if they wish to remain anonymous, at 1-800-222-TIPS or www.solvecrime.ca.