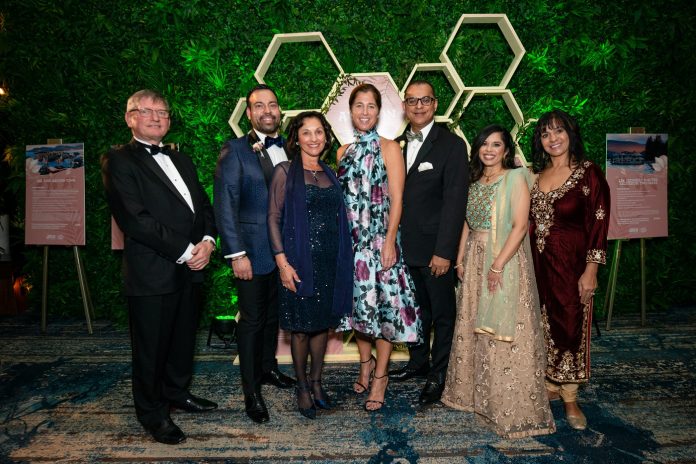 Funds from 11th Annual A Night of Miracles Gala will help transform diabetes care for BC's kids
MORE than 440 of BC's South Asian philanthropic, business and community leaders came together last Saturday evening to raise $742,495 for BC Children's Hospital at the 11th Annual A Night of Miracles (ANOM) Gala. Guests in attendance represented the largest turnout in this event's history. Since the gala's inception, the South Asian community has cumulatively raised $6.1 million, demonstrating its long-standing commitment to providing the best health care imaginable to kids across the province.
"As we celebrate our 11th year of A Night of Miracles, I'm inspired as I look back on the many ways this annual gala has helped make a positive difference for kids' health across the province," said Teri Nicholas, President and CEO of BC Children's Hospital Foundation. "I am deeply grateful for the support that this event's guests and partners have raised to help advance care at BC Children's for kids and families who need it most."
Funds from the event will help transform pediatric diabetes care across the province. Through this critical support, more kids across BC with type 1 diabetes—a lifelong, serious disease with the potential for devastating complications—will be able to access the expert care and resources they need to control their condition through virtual care, telehealth and collaborations with local health care providers. This level of expert care and support, delivered to all corners of the province, will help improve health outcomes for these kids—in particular for those who don't live close by to the specialized care provided by BC Children's.
The funds raised will also support efforts to educate families on using the latest diabetes management technologies that will ease the daily burdens of living with the disease, and research initiatives that will help fuel life-changing discoveries.
This year's event, co-presented by Fasken and Rogers, was a spectacular evening of fine dining and dancing, extraordinary fundraising and lively entertainment. Joining the festivities were National Defense Minister Harjit Sajjan and Labour Minister Harry Bains.
Masters of Ceremonies Randip Janda of Hockey Night in Canada Punjabi Edition and Tara Jean Stevens of KiSS Radio lit up the stage as they co-hosted the evening. They were joined by Apollo Trio and performers from Harbour Dance Centre, who provided the evening's entertainment, as well as returning auctioneer Fred Lee, who energized guests while inspiring them to open their hearts—and their wallets—during the live auction.
A special dinner was prepared by Executive Chef Ben Mattman of the Vancouver Marriott Pinnacle Downtown. Guests were enthralled by the transformation of the hotel into a vibrant garden party at the Taj Mahal—and MCs and guests alike expressed gratitude for the venue's support over the years, while recognizing its final year of hosting this event.
"It's such a great privilege and opportunity to bring this community together once again to build on the amazing work already accomplished, as we look ahead to help push the boundaries of what's possible in child health across BC," said Manjot Hallen, Chair, A Night of Miracles Cabinet. "I'm thankful for the support of so many people who made tonight such a success, including the gala's Cabinet, sponsors, and countless volunteers who so generously gave their time and resources."
To learn more about ways to support BC Children's Hospital Foundation, visit bcchf.ca.