UPDATE (Tuesday night):
Now that her family and their lawyer has revealed it to the mainstream media, The VOICE can inform its readers that she was pregnant and the father of the unborn child was her senior officer who reportedly would not take responsibility for it. We know his name.
The lawyer, Martin Peters, told the mainstream media that two days before Thiara was found dead it was revealed that she was three-and-a-half months pregnant. Her family said that the male Mountie started showing up at the house several months after Thiara graduated from RCMP training in December 2018, according to the news report.
First report: Tuesday, March 9 at 9:36 a.m.
THE Independent Investigations Office (IIO) of B.C. is investigating the circumstances surrounding the February 21 death of an off-duty member of the Richmond RCMP.
At approximately 9:15 p.m. on February 21, calls to 911 reported a woman considering self-harm. Just after 10 p.m., Vancouver Police officers located the woman's body on the sidewalk of the Moray Bridge in Richmond. She had suffered what appeared to be self-inflicted injuries.
The IIO said it is investigating the circumstances surrounding this death, but further details would not be released at this time in order to protect the integrity of the investigation. Anyone with relevant information is asked to contact the IIO witness line at 1-855-446-8477.
The VOICE was the first to report the incident on our website on February 23, identifying her as a South Asian female Mountie. But at the request of one of her family members, we withdrew the story. (Since then, the information and her photo have been published in mainstream media.)
The VOICE has other details, but cannot reveal them for now. All we can say is that it will reportedly prove to be terribly embarrassing for the RCMP.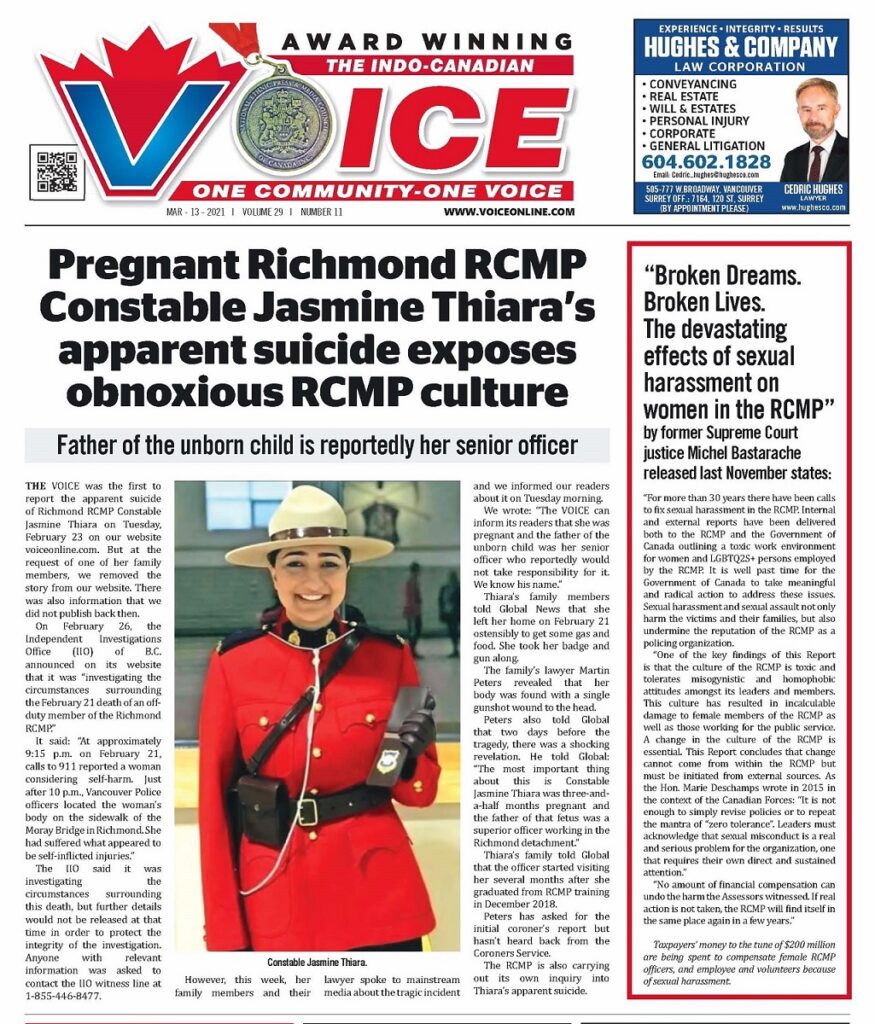 READ ALSO: