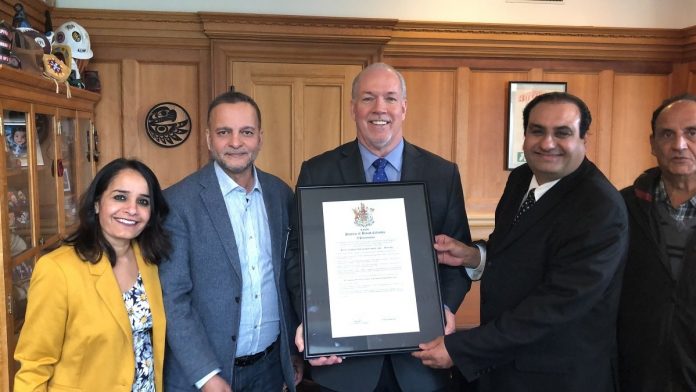 RACHNA Singh, NDP MLA for Surrey-Green Timbers, made the following statement in the B.C. Legislature on Vaisakhi and the Jallianwala Bagh Massacre in B.C. Legislature:
FOR the first time, this week we celebrated Vaisakhi at the B.C. Legislature. As we are geared up to celebrate the birth of Dal Khalsa and Vaisakhi, I would like to take a moment to remember close to 1,000 people who were killed in a firing by British troops on a peaceful gathering of demonstrators who had assembled in the city of Amritsar to protest against draconian laws and the arrests of the leaders of the passive resistance movement against the foreign occupation of India.
The bloody incident happened on April 13, 1919 at Jallianwala Bagh, a public park that has now become a national monument. This weekend marks a hundred years since the tragedy that remains permanently etched on the memories of Indians all over the world.
I myself grew up listening to the tragic story repeatedly told to our generation by our community elders and teachers. The history of the Jallianwala Bagh episode has been kept alive in Canada, as well, by organizations like Mehak Punjab Dee TV, Professor Mohan Singh Memorial Foundation, Dareks Ghill Society, Committee of Progressive Pakistani Canadians and Indo-Canadian Workers Association, to name a few.
While Mehak Punjab Dee TV has been organizing annual vigils and exhibitions in the memory of those killed, Professor Mohan Singh Memorial Foundation has been tirelessly campaigning to get a formal apology for the incident in the British Parliament
Recently, the province has proclaimed April 13, 2019 as the Commemoration of the Centenary of the Jallianwala Bagh Massacre Day. Such recognitions are not only important to decolonize our minds, but also to understand the relevance of such historic incidents under current circumstances. While we must keep our history alive, we also need to stand up against state-sponsored brutality anywhere is the world.
The birth of Dal Khalsa also signifies the importance of fighting against injustice. The linkage between the two parallel historical events, one being auspicious and the other being tragic, reminds us of our collective responsibility to carry forward the struggle for a fair and just society.