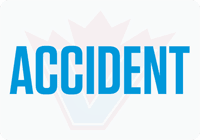 SURREY RCMP said on Monday that the motor vehicle collision that occurred on Sunday at approximately 5 p.m. at a bus stop on 72 Avenue between 122 Street and 124 Street resulted in injuries to three people, one of whom sustained multiple fractures.
A single vehicle left the roadway and mounted the sidewalk striking three people, including a five-year-old girl. The victims were transported to the hospital.
The driver of the vehicle is a Class 7 (learner) who was under supervision at the time of the collision. The Surrey RCMP Criminal Collision Investigation Team has conduct of this investigation. Early indications are that distraction may have been a factor in this collision.
Charges have not been laid at this time.
Anyone with more information about this incident or dash-cam footage is asked to contact the Surrey RCMP at 604-599-0502, or Crime Stoppers, if they wish to remain anonymous, at 1-800-222-8477 or www.solvecrime.ca and reference file 2021-40801.