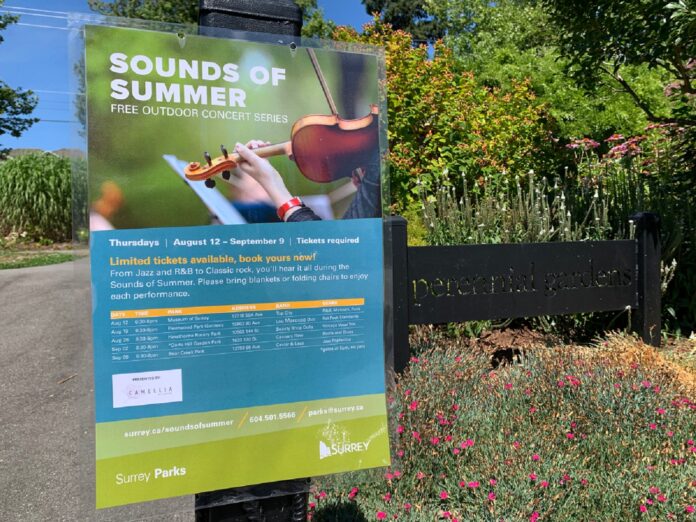 THE City of Surrey in partnership with Camellia Residence Inc. presents the Sounds of Summer concert series, offing free outdoor performances of Jazz, R&B and Classic Rock on Thursdays, from 6:30 to 8 p.m. until September 9. Tickets are free but must be pre-booked through the Box Office at Surrey Civic Theatres. Limited to 100 tickets per show. Bring your own chair or blanket.
2021 Sounds of Summer concert lineup:
Thursday, August 12 at Museum of Surrey featuring Top City Jazz Band
Thursday, August 19 at Fleetwood Park Gardens featuring Lou Marocco Duo
Thursday, August 26 at Hawthorne Rotary Park featuring Beauty Shop Dolls
Thursday, September 2 at Darts Hill Garden Park featuring Cannery Row
Thursday, September 9 at Bear Creek Park featuring Caviar & Lace
Sounds of Summer is one of the many programs, activities and events offered by Surrey Parks to encourage residents and visitors to connect with the outdoors and celebrate our parks throughout the year.
Order tickets and learn more at surrey.ca/soundsofsummer.