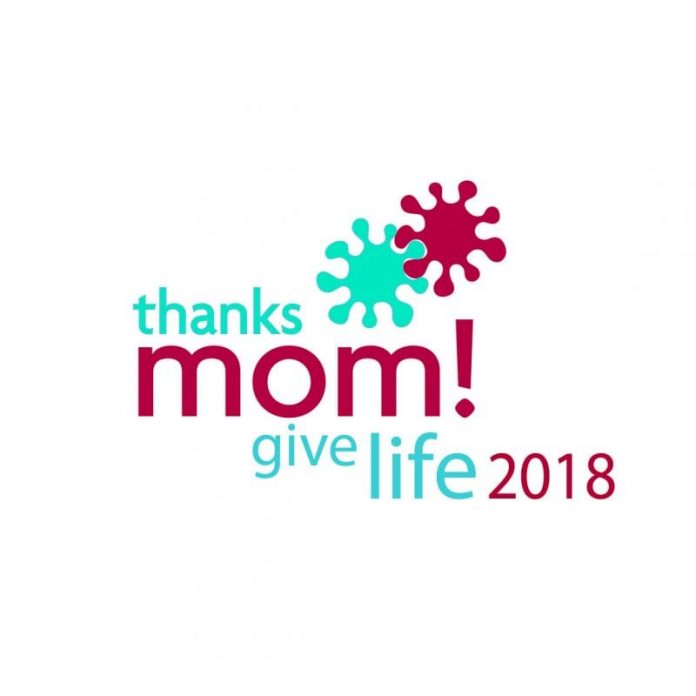 MOTHER'S Day is coming up, notes Canadian Blood Services – and what better way to honour her for giving you life than by being willing to "Give Life" to others through:
● Blood donation
● Registering as a potential stem cell donor (if you are 17-35 years old)
● Registering as a potential tissue or organ donor
Thanks Mom Give Life 2018 will be held at Surrey's Guildford Town Centre (Centre Court) on May 5 and 6 to raise public awareness about how you can Give Life. Volunteers will be giving information as well as swabbing registrants for OneMatch (Canadian Blood Service's unrelated bone marrow and stem cell network) and having a blood donor clinic.
Did you know that there are 800-1,000 patients at any given time across Canada needing a stem cell transplant because they do not have a matching family member? Stem cell matching is ethnically based due to HLA (human leukocyte antigen) which are the special immune proteins on white blood cells. More diverse registrants are needed especially in the South Asian community. Patients of South Asian ancestry are much less likely to obtain a stem cell match because potential donors of this ethnicity compose only 6% of the OneMatch registry base, whereas there are many more potential Caucasian donors (almost 70%). Hence, a Caucasian patient has up to 80-90% chance of having a match whereas an ethnically South Asian patient has much less of a chance. It is even less for other groups.
Did you know that 15 minutes is all it takes to register as a potential stem cell donor? This could be the first step in helping to save someone's life. If you are between 17-35 years old and willing to be a potential donor, you answer a health questionnaire and then swab the inside of your cheeks to register. Only if you are found to be a match for a patient will you be asked to donate stem cells. You would only donate about 5% of your stem cells and like hair or blood, stem cells grow back quickly and are replaced in your body within 4-6 weeks.
A blood donor clinic is also being held at the Surrey Canadian Blood Services location ( at 15285 101st Avenue, right across the street from Guildford Town Centre).
Jivana (community partner with BC Transplant) will be giving information about and helping people to register as potential tissue or organ donors.
You will receive a special Mother's Day card to acknowledge that you are willing to give life.
For further information, email at info@thanksmom.org