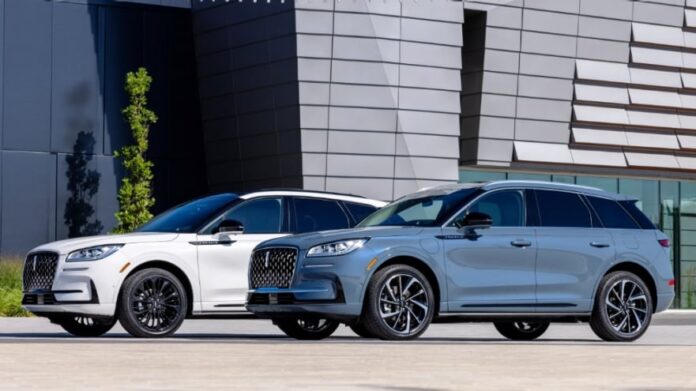 DEARBORN, MICH: The new luxury 2023 Lincoln Corsair SUV  has a number of changes and  segment-first features.  The exterior gains a new and larger grille and wing-shaped daytime running lamps give Corsair a fresh face and a more dynamic, youthful presence. Interiors feature a streamlined lower instrument cluster below the center stack screen creates a spacious front row, making placing and accessing items in the media bin effortless. A new available backlit applique shines light through a perforated star light pattern, providing Lincoln's signature constellation effect. Interior wise , there are new trim color palettes and the center stack screen grows to an impressive 13.2 inches, and features SYNC®4 technology and Lincoln Enhance software updates. The driver's 12.3-inch LCD cluster will also come standard, with the Lincoln-unique Constellation digital interface. Corsair will also offer the Alexa Built-in hands-free experience with complimentary connectivity to Alexa for three years.
The Corsair will be available in both 2.0-liter turbocharged four-cylinder gas engine with a 250-horsepower rating and as the 2.5-liter plug-in hybrid Corsair Grand Touring with a 266 combined horsepower rating and an .   intelligent all-wheel drive system allows for enhanced all-weather capability.
New safety and technology includes segment first features such as: available Lincoln ActiveGlide 1.2 hands-free features for speeds up to 80 mph. The new 2023 Corsair is the first vehicle in the segment to get advanced, hands-free ADAS features for highway driving. Lincoln ActiveGlide 1.2 introduces new available features to Corsair, including:
Lane Change Assist can help drivers move through traffic on the freeway with more confidence while using ActiveGlide. The system will perform a hands-free lane change when the driver taps the turn signal, and it can even suggest a lane change in slow-moving traffic.
Predictive Speed Assist automatically and smoothly adjusts the speed as drivers approach a sharp curve and will signal the driver ahead of time when a speed change is about to occur.
In-Lane Repositioning makes the hands-free highway driving experience feel more natural, keeping the vehicle in its lane while subtly shifting it away from vehicles in adjacent lanes – especially helpful when next to bigger vehicles.
Intersection Assist 2.0 helps clients avoid potential collisions with pedestrians while turning. Drivers can further customize Corsair with Lincoln's signature drive modes: Normal, Excite, Slippery and Conserve. Two additional modes enhance the plug-in hybrid electric driving experience.. Ordering for the new 2023 Corsair is now open at www.lincoln.com and will begin arriving in showrooms in early 2023.
Posted by: Sadheevjot Batra