THREE teenage hockey players — Ronin Sharma, Caleb Reimer and Parker Magnuson – who were members of the Delta Hockey Academy were killed when their vehicle crashed into a tree in Surrey on Saturday.
Surrey RCMP announced on Saturday that at 2:47 a.m., they along with Emergency Health Services and Surrey Fire Service responded to report of a single vehicle collision into a tree in the 16000-block of 104 Avenue. It was determined that all three occupants of the vehicle were dead. They were identified as three boys who were 16 and 17 years old.
Later, Surrey RCMP said that the families of all the victims had been notified and that no further information would be released by police about the identities of the victims.
"Undoubtedly the community as a whole will be deeply impacted by this heartbreaking loss," said RCMP Media Relations Officer Cpl. Vanessa Munn. "Support is being offered to the families of the boys and arrangements are being made to offer additional support to the community."
However, the Langley Rivermen Hockey Club on Saturday confirmed that Ronin Sharma, 16, was among the dead. They said in a statement: "The Langley Rivermen have gathered deeply devastating news that Ronin Sharma, a second year player, passed away this morning at the age of 16. We as an entire organization wish the Sharma family our deepest and sincerest condolences. Today, we lost a young man who made each and every one of our lives better as well as brighter every day he came to play the game we all love. We have also gathered two other young men lost their lives in the same incident and want to wish their families our most sincere condolences. We will miss you Ronin. May you rest in peace."
On Sunday, the Delta Hockey Academy said in a statement: "We are heartbroken to share the tragic news of the passing of three Delta Hockey Academy student-athletes early Saturday morning. … Our deepest sympathy goes out to the families of these young student-athletes as they deal with this unthinkable tragedy. … The Delta School District has organized support services and resources for our student-athletes starting tomorrow. Thank you to everyone in the hockey community for sharing your support for our student-athletes during this difficult time,"
The National Hockey League on Sunday issued a tweet: "The NHL sends its love and deepest condolences to the families of junior hockey players Caleb Reimer, Ronin Sharma and Parker Magnuson who tragically passed away in a car accident on Saturday. Rest in peace boys."
Surrey Mayor Doug McCallum said in a statement on Saturday: "Three young lives were taken away in this horrible accident. On behalf of Surrey City Council, we send our deepest and heartfelt condolences to the families. Our thoughts are with them during this difficult time. I ask that the privacy of the families be respected as they cope with this tragic and sudden loss."
The Integrated Collison Analysis and Reconstructive Service (ICARS) and the Surrey RCMP Criminal Collison Investigation Team (CCIT) continue to investigate the cause of the collision.  All evidence has been gathered from the scene of the collision and roads have been re-opened to the public.
Anyone who was in the area and witnessed the collision or may have dashcam footage is asked to contact the Surrey RCMP at 604-599-0502, or Crime Stoppers, if they wish to remain anonymous, at 1-800-222-8477 or www.solvecrime.ca.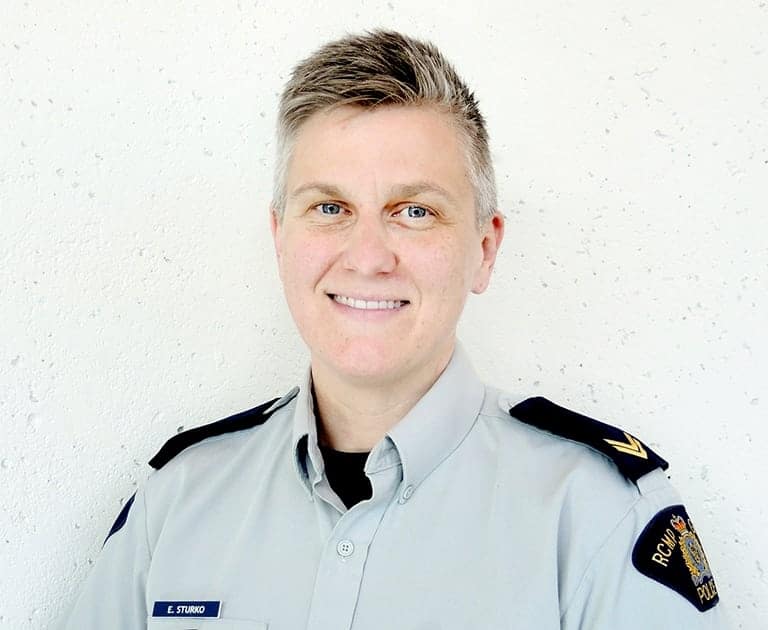 ON Monday, The VOICE asked Surrey RCMP Sgt. Elenore Sturko about what driver's licence the person who was behind the wheel had and she replied that police were at this stage looking at all the factors, including driving experience and speed. Both the ICARS and CCIT were working on the case.
Sturko said: "We are hoping to have more information to provide the family in the next few days and then we will look at releasing more information to the public."
She added that investigators take measurements to try and calculate things like speed, they try to access information from the car's computer, and they look at measurements from the road. They'll look at other factors as well.
Sturko said the teams had already done "a significant amount of work" in the investigation and that they were now compiling those investigative reports and some forensic information that they had gathered.
"They will be able to notify certainly the families in the coming days and then we hope to release more information. Given the high amount of "interest" in the story, the ages of the individuals that were killed in the collision, I think a lot of people are looking for answers to find out just how this could have happened," Sturko added.
She also noted that investigators look for skid marks, driving conditions at the time and so on. "There will be a lot of information that they will be putting together to find answers to what happened in this situation," she said.