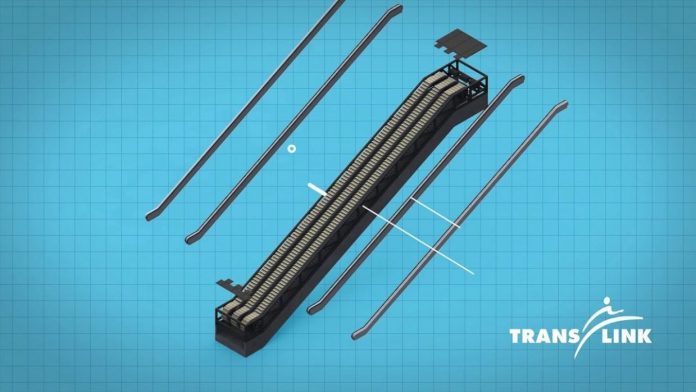 Video: Granville Escalator Replacement Project
STARTING May 26, TransLink will begin a major project to replace six aging escalators at Granville SkyTrain Station, TransLink announced on Tuesday.
The escalators at Granville Station are 32 years old, and have been carrying 30,000 people per day. They are the longest set of escalators in Metro Vancouver. The confined location of the escalators requires them to be built on-site piece-by-piece.
The Seymour Street entrance to Granville Station will be closed for the duration of this work in order to ensure the safety of customers and construction crews, and minimize project cost and time. Customers will access the station from the escalators and elevator at the Dunsmuir Street entrance.
TransLink has taken steps to minimize the impact of this important work on their customers:
Additional faregates have been added to the Dunsmuir entrance to ensure it can handle increased capacity.
Extensive proactive maintenance is being completed on the three escalators serving the Dunsmuir entrance to reduce the need for unplanned maintenance.
Replacement parts have been pre-ordered to allow for faster repairs.
Clear wayfinding signage will direct customers to the Dunsmuir entrance.
Additional SkyTrain staff will be on site to assist customers.
Customers are asked to allow for extra travel time, or consider using Burrard or Stadium-Chinatown Station – a five to eight minute walk away. Every effort is being made to keep the station open for customers, but disruptions are expected. If multiple escalators at the Dunsmuir entrance aren't running, there may be circumstances where the station must be closed for safety reasons.
The Granville Station Escalator Replacement Project is part of the TransLink Maintenance and Repair Program:
TransLink is replacing and improving aging infrastructure across the system to keep customers safe, comfortable and moving across a reliable transit network every day.
Granville Station is the first of 13 SkyTrain stations and select West Coast Express stations which will see the replacement of 37 escalators through the Expo Line Escalator Replacement Project.
The Granville Station work is estimated to cost $14.5 million, and is funded in part through the Government of Canada and the Province of B.C.
Improvements to the other 12 stations are anticipated to begin rolling out in 2019.
Kevin Desmond, CEO, TransLink, said: "Our SkyTrain system is more than 30 years old and the time has come to make significant investments in our infrastructure to ensure we can keep moving our customers safely and reliably. That's why this project, along with the other 97 active projects included in the TransLink Maintenance and Repair program are so important.
"Once this project is complete, the more than 30,000 customers who travel through Granville Station on weekdays will use escalators that are more robust and dependable. We know this will inconvenience people in the short term, but we thank our customers for their patience while we complete this important work."