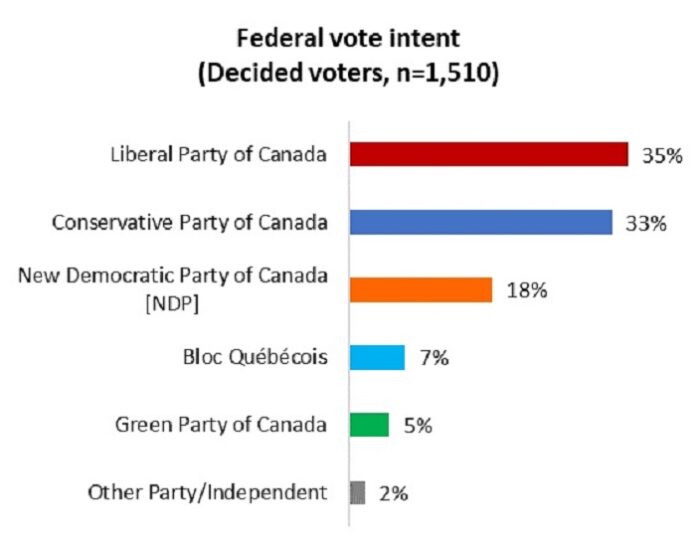 THE latest study from the non-profit Angus Reid Institute finds most say the federal government continues to handle the COVID-19 pandemic well. Two-thirds say the government has done a good job – a level relatively unchanged since late March.
Further, with opposition criticism over the WE Charity scandal on an apparent hiatus, Trudeau's personal approval has recovered to 49 per cent, having sat in the mid-40's over the summer.
That said, the vote intention picture remains extremely competitive. Currently 35 per cent of Canadians say they would cast a ballot for the incumbent Liberals if an election were held, while a near identical 33 per cent say they would support the Conservative Party.
One-in-five (18%) prefer the New Democratic Party, while the Bloc Quebecois remain competitive in Quebec.
Other Findings
* Conservative Party leader Erin O'Toole's favourable rating has increased six points since early September (30% to 36%), but his unfavourable rating has increased nine (31% to 40%).
* NDP leader Jagmeet Singh is viewed favourably by 49 per cent of Canadians and unfavourably by 41 per cent. New Green Party leader Annamie Paul remains relatively unknown among the public (50% say this)
* COVID-19 and healthcare are chosen by a wide margin as the top two issues facing Canada currently. Climate change and the economy are atop the second tier of important issues, but well behind the top two.