THE Fraser Valley Bandits announced Tuesday that the club has selected Sukhman Sandhu from the University of British Columbia (UBC) — and Thomas Kennedy from the University of Windsor — at the 2022 Canadian Elite Basketball League (CEBL) U SPORTS Draft.
Sandhu was chosen by the Bandits with the fourth pick in the second round. He formerly attended Tamanawis Secondary in Surrey, B.C., and is coming off the best season of his U SPORTS career after playing his previous three years at the University of the Fraser Valley (2016-19).
The 6-foot-10 forward averaged 16.2 points and 7.1 rebounds on 30-of-60 shooting from three-point territory in just 23.3 minutes played per game. Sandhu's deadeye shooting from long range placed him first in three-point percentage in all of Canada among players with a minimum of 50 attempts.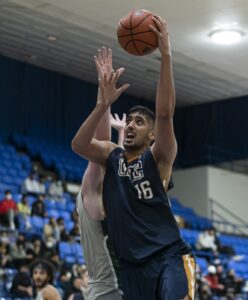 "I am pleased to welcome Thomas and Sukhman to the Bandits organization. Both have proven that they are two of Canada's most skilled college or university players and I am looking forward to watching them develop and showcase their talents this summer," Bandits President Dylan Kular said. "The CEBL U SPORTS Draft is an important opportunity for us to identify emerging players and we are committed to giving student-athletes a rewarding experience before they return to school or embark upon the next chapter of their young professional careers."
Sandhu set career highs across the board in 2021-22; including points, rebounds, as well as field goals, free throws, and three-pointers attempted and made. On November 12, 2021, Sandhu scored a career-high 30 points on 11-for-18 shooting in a 99-65 victory against UBC Okanagan, thanks largely in part to a career-best 6-of-8 from three-point distance.
Fraser Valley opens its fourth CEBL season on the road on Wednesday, May 25 at 4:30 p.m. PT against the Ottawa BlackJacks. Following a three-game road swing to start the year, the Bandits will make their debut at LEC against the Saskatchewan Rattlers on Saturday, June 4 at 2 p.m. PT.