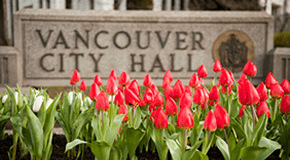 Event to be livestreamed online
THE random order candidate list for the 2018 city election ballot in Vancouver will be decided in a draw on September 21.
In 2018, candidates will be listed in random order, NOT alphabetical order, on the ballot, as directed by Vancouver City Council and the Vancouver School Board. The same random order list of candidates will be shown on every ballot.
The draw will take place in the Council Chamber, 3rd Floor, 453 West 12th Avenue at 5 p.m. on September 21. Candidates (or their official agents) and media are permitted to attend in-person.
All others can watch the draw live online through vancouver.ca/vote, using the council video broadcast system. A recording of the video will be available after the event.
The draw will take place in accordance to section 79 of the Vancouver Charter, meaning:
–      Each candidate's name will be written on a separate piece of paper, as similar as possible to all other pieces
–      Each piece of paper will be folded in a uniform manner so the names are not visible
–      Each piece of paper will be placed in a container which will then be shaken to make their distribution random
–      The Chief Election Officer will direct a person who is not a candidate or candidate representative to withdraw the papers one at a time
–      For each race, the name on the first paper drawn is the first name on the ballot, the name on the second paper is to be the second, and so on until all the candidates' names have been placed on the ballot.
After the draw, the random order list can be found on vancouver.ca/vote and will be widely publicized.