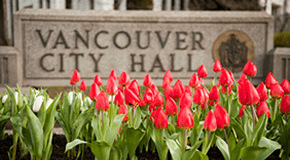 THE City of Vancouver has been recognized as a municipal leader in finance by the C.D. Howe Institute in its 2018 municipal fiscal accountability report card released on Tuesday ― achieving an A+ ranking, up from A- in 2017. Vancouver is the top-rated municipality among Canada's major cities for 2018.
Surrey and Richmond came in second, each receiving an A- score, while Burnaby was far behind with a C-.
Some of the key items that the Institute looks for in a municipality's financial records include:
· Budgets should match financial statements so readers can easily make the relevant comparisons
· Budgets and financial statements should present the key figures early and prominently
· Budgets and financial statements must be timely enough to give elected representatives meaningful control
GFOA Distinguished Budget Presentation Award
In addition, for the second year in a row, the Government Finance Officers Association (GFOA) named Vancouver as a recipient of the Distinguished Budget Presentation Award, which recognizes organizations whose budget documents explain complex information in a clear and engaging way for its 2019 Budget and Five-Year Financial Plan document.
When creating the 2019 Budget book, the City's Finance team placed a particular emphasis on explaining the rationale behind budgetary decisions, creating infographics that summarized the data and using language that could be better understood by the general public.
In order to receive the award, budget documents must be rated proficient and meet 14 mandatory criteria and serve as an effective policy document, financial plan, operations guide, and communications vehicle.
The GFOA program encourages and assists local governments in Canada and the United States in preparing high-quality budget documents that reflect guidelines established by the GFOA's best practices. The award recognizes individual governments that succeed in achieving that goal of making budgeting information accessible to residents and businesses.