SURREY Mayor Brenda Locke must be very proud of her new Surrey Police Service as over 200 of its officers helped bring down violent crime in her city in the second quarter of this year.
Surrey Police Service is currently preparing to become the police of jurisdiction for the city.
According to crime statistics released by Surrey RCMP for April to June:
Violent crime decreased by 4% in the second quarter, with a 7% decrease year to date in 2023 as compared to 2022.
The Integrated Homicide Investigation Team (IHIT) assumed conduct of four homicides in Q2 2023, the same number as Q2 2022. IHIT works alongside the Surrey RCMP to advance homicide investigations. In April, IHIT announced an arrest in relation to the stabbing death of a 17-year-old on a Transit bus which occurred on April 11, 2023.
There were three attempted murder files in Q2 2023 compared to two files in Q2 2022.
Assaults, the most high-volume persons crime, decreased by 13% in Q2, which represents 127 fewer assault files. At this time, 27% of Q2 assault files have identified an individual for charges. Intimate partner violence accounted for 23% (192) of assault files, a 25% decrease from the previous year. In April, Surrey RCMP highlighted the important work of the Intimate Partner Violence Unit as part of the Prevention of Violence Against Women Week; the Intimate Partner Violence Unit works in partnership with the Surrey Women's Centre to provide comprehensive wrap around support for victims of intimate partner violence.
Sexual offences increased by 5% in Q2 2023. Of the reports received, the suspect was known to the victim (family or acquaintance) in 74% of reports. In eight incidents, victims had interacted with the suspect via Snapchat prior to meeting up with the individual. In April, the Surrey RCMP's Internet Child Exploitation (ICE) Unit announced charges from a multi-year investigation into child luring, sexual interference and sexual assault involving two teenage victims in Surrey and West Shore.
There were 69 reported sexual extortions reports in Q2 2023, up from 41 in 2022. Of the 69 reports, 13 victims were under the age of 18, and 75% of the victims identify as male. The majority of the incidents involved suspects demanding money, crypto currency or gift cards from the victim. The most commonly used social media platforms utilized for these extortions were Snapchat and Instagram. Project Lavender, a youth program delivered in Surrey Schools, has recently been adapted to include the increasing trend of males being targeted for these sexual extortions. Officers delivered 33 presentations to hundreds of youth in Surrey elementary and high schools from April to June 2023.
Robberies increased by 8% in Q2 2003 (6 additional robbery incidents). In April, there was a series of street robberies mainly in the Guildford area. The Surrey RCMP Robbery Unit identified a 15-year-old suspect, who is now facing charges. In June, charges were laid against three suspects in relation to a personal robbery at a post-secondary institution that resulted in injuries to the victim.
There were 16 files in Q2 2023 involving forcible confinement / kidnapping / abduction compared to 15 files in Q2 2022. Ten files were related to Intimate Partner Violence. In total, 10 individuals have been identified for possible charges. Two files involved youth, both believed to be related to parental or family dispute.
In Q2 2023, the city had 10 incidents of confirmed shots fired files compared to seven in Q2 2022. Of those, five are considered related to either gangs, drugs, or other criminal activity, while five involve motives that have yet to be determined. In May, the Surrey Gang Enforcement Team arrested Marcos Cardosa, wanted on a Canada-wide warrant for numerous offences including discharge of a firearm, following proactive enforcement efforts as part of the Inadmissible Patrons Program (IPP).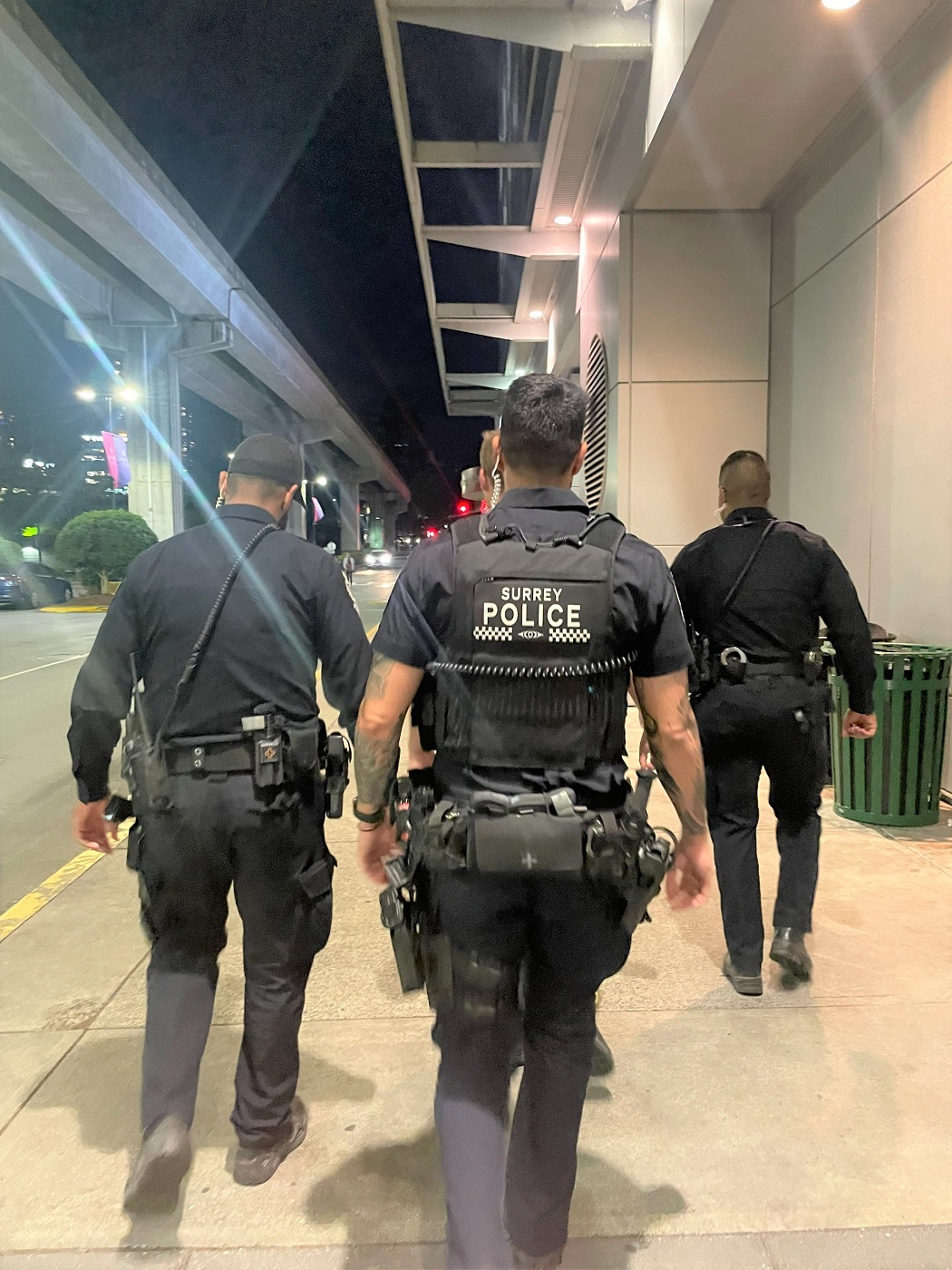 There was an overall 27% decrease in drug files under the Controlled Drugs and Substances Act. Note: on January 31, 2023 decriminalization of individuals who possess certain illegal drugs for personal possession came into effect in BC. Q1 and Q2 2023 represents five months of data following decriminalization.
Overall property crime in Q2 2023 saw a 9% decrease.
Business break and enters declined by 14%, with most districts experiencing a decrease. District 2 (Guildford/Fleetwood) saw an increase, with fifteen additional files in Q2 2023. Of the 164 break-ins, 80 were to businesses, 37 were to apartment complex parkades, storage or common areas, 21 were to secured business yards and 14 were to construction sites.
Residential break and enters decreased by 27% in Q2 2023, with decreases across all five policing districts. There was an overall 14% decrease in break and enters to vacant residences, with 44 files in Q2 2023 compared to 51 in Q2 2022.
Theft of vehicles decreased by 13% in Q2 2023. Of the 263 vehicles reported stolen in Surrey, 70% have since been recovered. In Q2 four vehicles stolen from Surrey were recovered burned, three in Surrey and one in Coquitlam. The most common vehicle makes and models stolen were: Honda Civic, Ford F-350s and F-150s, and GMC Savannas.
Theft from vehicles, the top reported property crime overall, decreased by 33% in Q2. There were 238 catalytic converters stolen in Q2 2023, which represents a 44% decrease from Q2 2022.  In addition to enforcement efforts by our auto and property crime target teams, a new initiative, You Etch It. We Catch It. was launched in April 2023 in partnership with ICBC, the City of Surrey and local businesses. This program allows people to have their vehicle identification number (VIN) etched onto their catalytic converter free of charge when they are having other servicing completed at participating businesses throughout the city. The goal is to make catalytic converters easier to track and deter future thefts. Surrey RCMP also worked in conjunction with the City of Surrey Bylaws on bylaw amendments to limit the circumstances under which catalytic converters may be sold, through ticketable offences and significant increases to maximum fines.
Theft over $5,000 increased by 7 files, with 35 files in Q2 2023 compared to 28 in Q2 2022. Theft under $5,000 increased by 2% in Q2 2023, and shoplifting increased by 34%. A coordinated effort by Surrey RCMP, Transit Police and Delta Police resulted in 26 arrests and the recovery of thousands of dollars in stolen merchandise during a one-day operation at Guildford Town Centre on May 25, 2023.
There was a 1% increase in fraud related files. In June multiple charges were laid in relation to an investigation by the Community Response Unit that involved multiple forged documents and culminated in the execution of a search warrant at a residence in Surrey.
In total, five incidents were reported that included elements of hate/bias related crime in Q2 2023. Two involved racist graffiti written on a public space and three involved a verbal altercation that included racist remarks between one or more parties.