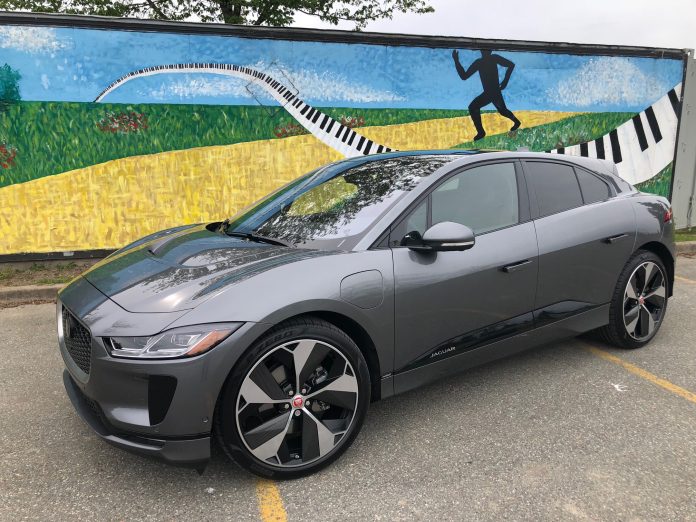 The 2019 Jaguar I-Pace is a revolution in the premium electric vehicle segment. A unique looking all-wheel-drive crossover with all the style of the storied British brand. And here's the thing, the I-Pace has already been named as 2019 World Car of the Year, 2019 World Car Design of the Year and 2019 World Green Car. So it has its credentials already.
The design is a based off the hybrid-electric Jaguar C-X75 concept which gives its DNA in the sleek I-Pace's profile. With a claimed drag coefficient is just 0.29. Powertrain wise, there are: 340-hp dual electric motors with a 90-kWh (kilowatt hour) battery pack with 432 lithium ion cells. 1-speed, direct-drive transmission; Total system output is 394 hp and 512 lb-ft of torque. The I-Pace is of course fully electric and with the CCS standard for level 3 fast, DC charging you can gain an 80-percent charge in 40 minutes, Home charging on Level 2 will take approximately 10 hours to get to 80 percent. Jaguar claims has a driving range of about 386 km. Three trim levels will be offered: S ($89,000), SE ($95,800), and HSE ($99,000), with a specially equipped First Edition model available for the first year only. The interior ambience is sleek and high-tech, The I‑PACE seamlessly integrates technology and abundant space in a clean and uncluttered design with tactile features and sweeping lines
Of course, the I-Pace is superb, when it comes to technology. Alexa-enabled devices can be connected to remotely check on charge level, range, and vehicle status, and apps are available that link with the I-Pace to automatically open the garage door and turn on the lights and heating when you arrive home. On the road, the Jaguar offers a sensational driving experience. That instant throttle response is superb. Jaguar claims the I-Pace will accelerate from 0 to 60 mph in 4.5 seconds. Meanwhile at speeds above 105 km, the I-Pace hunkers down 0.4 inch to improve aerodynamic drag. The I-Pace is athletic and nimble for its size and takes corners with poise and control. The range from the batteries is good and in real-life driving will be based upon driving style and terrain. It such a wonderful feeling in driving the smooth, near silent I-Pace. It is not cheap, but it's worth every dollar. The ultimate EV SUV by far with the awards to prove it!
2019 Jaguar I- Pace priced from $89,000.
More info at www.jaguar.ca