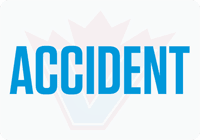 ABBOTSFORD Police are looking for witnesses and dashcam footage following Tuesday's three-vehicle collision in the 32500-block of Maclure Road at 6:28 a.m.
A red pickup was travelling westbound, when it crossed the median and crashed into a transport van in the eastbound lanes. The transport van was then hit from behind by an SUV.  The driver of the truck suffered serious injuries and remains in hospital.
The transport van was carrying 14 passengers, all of whom were either treated on scene or transported to hospital by BC Emergency Health Services. The third vehicle involved had a lone driver who was transported to hospital by BCEHS.
The intersection was shut down while the Integrated Collision Analysis and Reconstruction Service, or ICARS, WorkSafe BC and Commercial Vehicle Safety Enforcement teams were all on scene and conducted their investigations.
Police said on Wednesday that the file is still in the early stages of the investigation, and there is no update on the severity of the injuries or the cause of the accident.
Abbotsford Police are requesting anyone in the area that saw the crash, or may have dashcam footage, to contact them at 604-859-5225, or send them a text message via 222973.