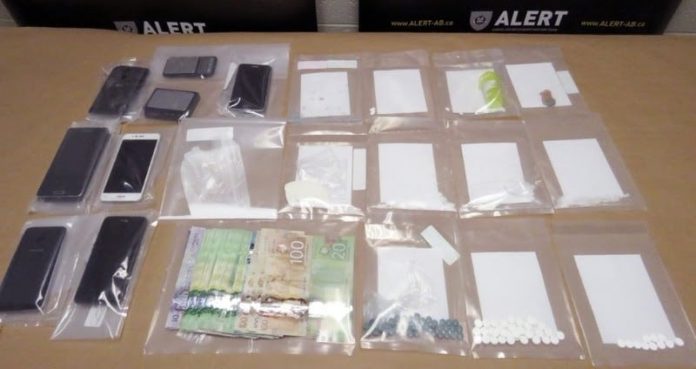 ALERT Lethbridge's organized crime and gang team arrested Corey Amyotte, 33, an alleged member of the Mad Cowz gang, on February 28, 2018, along with four other suspects: Harmeet Singh Bhachu, 24, of Calgary, Brittany Bird, 25, of Lethbridge, Tara Lynn Gearo, 35, and Coral Olivos, 26, of Calgary.
Members of Calgary Police Service, Edmonton Police Service, Lethbridge Police Service, Medicine Hat Police Service, and RCMP work in ALERT (Alberta Law Enforcement Response Teams).
Amyotte is from Manitoba and information provided by Blood Tribe Police suggested he was involved in drug trafficking in the region.
"Timely intelligence sharing between our agencies was a key factor in making a quick arrest. Given the recent concerns related to fentanyl overdoes in both communities, we are not willing to take any chances and will aggressively pursue drug dealers," said Staff Sgt. Jason Walper, ALERT Lethbridge.
Lethbridge Police Service helped execute the search warrants and make the arrests at a downtown hotel suite. Two vehicles were also searched, and one was seized as offence related property. Roughly $10,000 worth of drugs and cash was seized, including:
51 fentanyl pills;
Half a gram of suspected carfentanil;
24 grams of crack cocaine;
23 grams of methamphetamine;
48 codeine pills;
3 oxycodone pills;
18 grams of a suspected buffing agent; and
$1,875 cash proceeds of crime.
Amyotte has been charged with possession for the purpose of trafficking (two counts), possession of proceeds of crime, and breach of recognizance (two counts). Amyotte's breach charges stem from a previous ALERT investigation in October 2016.
Four associates of Amyotte's were arrested in the latest bust. Bhachu, Bird, Gearo and Olivos face drug-related offences.
Bhachu was also found to have outstanding warrants issued by the Calgary Police Service.