RICHMOND, California: Following the brutal attack of a 57-year-old Sikh American this week, United Sikh organization – a global United Nations-affiliated humanitarian non-profit – on Tuesday called for hate crime charges to be filed against the assailant, who remains on the loose.
Baljeet Singh Sidhu, who dons a dastaar (turban) and unshorn hair as guided by his faith, has retained United Sikhs to call upon the Department of Justice and FBI for a federal investigation because he believes his attacker targeted him for his appearance and religion.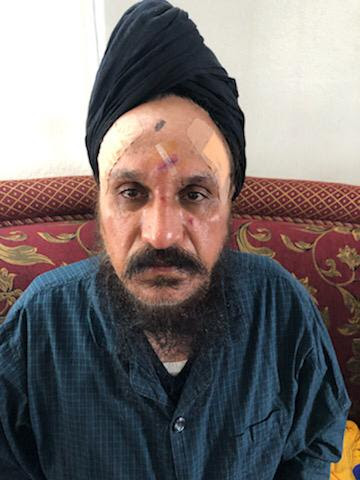 "Sikhs are 100 times more likely to be assaulted than the average American citizen because of our distinct appearance," said Jasmit Singh, United Sikhs Legal Director. "In the wake of this attack, we urge the Sikh community and all our fellow Americans to continue practicing their faith freely. We look forward to working with local and federal officials to ensure the suspect is caught and justice is served to the fullest extent of the law."
Sidhu is a part-time USPS mail carrier and taxi driver in Richmond, California. He was returning home after a night shift of driving when he was brutally assaulted by an unknown young man in the early hours of the morning on December 15. As described in a video interview, Sidhu was parking his taxi cab after work when he was stopped by the man, who asked for a ride.
Sidhu explained that it was the end of his shift and as he proceeded to exit his cab, the man attacked and pushed him on the ground.
"He held the door, and said 'I got you,' and hit me with a BBQ pan," Sidhu said. "He choked me, and we fell down on the ground."
A mall security guard happened to be nearby and heard Sidhu call for help. He intervened and stopped the attack, calling for police. When Richmond police arrived, they found Sidhu on the ground.
Sidhu doesn't remember much about the attacker due to being in shock, but Richmond police do have neighborhood surveillance video that may have caught the suspect. Anyone with information is urged to call the Richmond police department at (510) 233-1214. 
A core program of United Sikhs, International Civil and Human Rights Advocacy (ICHRA) helps advance the economic, social and spiritual empowerment of minorities and other marginalized groups and individuals in need, regardless of race, religion, gender, sexual orientation, social status, age or ability: click here to learn more and request legal aid.