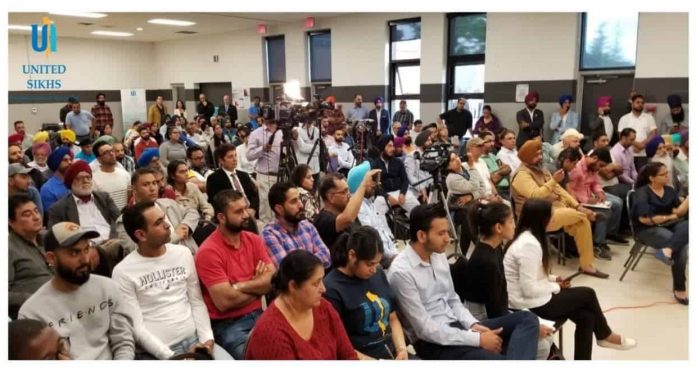 BRAMPTON: In a continued effort to combat escalating youth violence in the Peel area of Ontario, the United Sikhs organization on Wednesday called upon local leaders to assemble a bi-partisan Task Force on Youth Violence. This action comes two days after hundreds of local residents attended the Town Hall on Youth Violence hosted by the organization in conjunction with the Ontario Gurdwara Committee at Jim Archdekin Recreation Centre.
It also follows Wednesday's rejection of Councillor Gurpreet Dhillon's proposal to address the recent spike in crime by the Brampton City Council. If approved, the proposal would have directed staff to report back to the July 11 Council meeting with an immediate action plan strengthening enforcement around lodging houses holding 20+ people, increased loitering and loud music, urging the Province to investigate illegal private colleges, and for the Peel Police to provide updates on the recent attacks.
"Our Town Hall on Youth Violence was a great first step in addressing community concerns," said Sukhwinder Singh, United Sikhs Director. "Videos of the trending violence have been seen by thousands on social media, which is deeply concerning. We hope to establish a task force with local elected officials and government agencies to ensure our students feel safe and are able to focus on what is most important – their education."
The Town Hall on Youth Violence quickly achieved the 250-person room capacity at Jim Archdekin Recreation Centre. Several hundred attendees were unable to enter the room due to fire safety protocol. A community question-and-answer portion followed presentations from the following panelists:
* Harkirat Singh – School Trustee
* Jaspreet Singh – International Student
* Jaswant Kaur – Mental Health Professional
* Steve Blom – Peel Regional Police
* Manjit Singh Basran – Peel Regional Police
* Harry Dhaliwal – Citizenship Judge
"These senseless acts of violence have resulted in critical injuries," Bhagat Singh of Ontario Gurdwara Committee said. "It is our responsibility to address the issue and begin a dialogue regarding these concerns. We thank our partners in government, the community and members of the media for coming together to address this issue."
To initiate the formation of the Task Force, United Sikhs organization sent letters to the following officials and agencies, who were also in attendance at the Town Hall:
– Sonia Sidhu MP
– Raj Grewal MP
– Ruby Sahota MP
– Deepak Anand MPP
– Gurratan Singh MPP
– Sara Singh MPP
– Kevin Yarde MPP
– Prabmeet Singh Sarkaria MPP
– Amarjot Sandhu MPP
– Linda Jeffery, Brampton Mayor
– Gurpreet Singh Dhillon, Brampton City Councillor
As written in an excerpt of the official letter by United Sikhs Canada Director Sukhwinder Singh, the organization states:
"As a global humanitarian nonprofit associated with the United Nations Dept. of Public Information, our organization is forever committed to working cohesively with other social stakeholders to better our society. After learning about two recent reports of violent attacks involving international students in Brampton, United Sikhs organized the town hall to address growing community concern. While this effort was a great first step in engaging dialogue from local constituencies, we realize that strong follow-up action is needed to address this issue long-term. As such, we strongly urge you to help form a bi-partisan Task Force.
"Through our Community Education, Empowerment and Development (CEED) Programs, United Sikhs have been able to work with our global partners in government to launch a number of similar initiatives. We can provide a representative from our organization who can serve as a community liaison and help disseminate public recommendations. Thank you for your time and dedication to this critical issue for our community and the people of Canada at-large."
Looking to commit to a roundtable discussion on the Task Force, United Sikhs organization says it is committed to establishing the scope and a timeline in tandem with agencies having jurisdiction on the matter. A public meeting will be posted once all parties are able to set forth a date for continued planning.
A global human rights advocate, the organization urges members of the public to refrain from violence. You can report an incident or any information directly to 22 Division Criminal Investigators Bureau at 905-453-2121 ext. 2233. Information may also be left anonymously by calling Peel Crime Stoppers at 1-800-222-TIPS (8477) or by visiting www.peelcrimestoppers.ca.
http://7zi.e17.mywebsitetransfer.com/brampton-councillor-dhillon-says-city-doesnt-understand-concerns-about-violence/