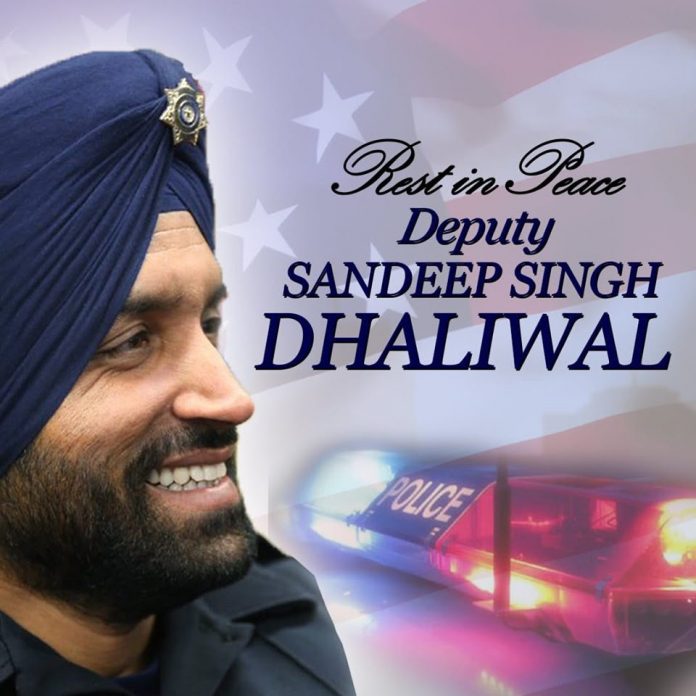 HOUSTON, Texas: Following the death of Deputy Sandeep Singh Dhaliwal, a 10-year veteran of Harris County Sheriff's Office who served as Director of Homeland Security for the United Sikhs organization, the organization on Friday launched a GoFundMe campaign and announced plans for an interfaith prayer vigil to be held on Monday, September 30 at 7 p.m. at Gurdwara Singh Sabha (1201 Abrams Road, Richardson, Texas).
The organization's legal department is also working with local authorities to ensure the assailants behind his murder will be brought to justice to the fullest extent of the law. "Deputy Sandeep Singh Dhaliwal was a gift to the world," said Gurvinder Singh, International Director of Sikh Aid programs for United Sikhs. "He is a hero, a devout Sikh American that spread seva (selfless service) in all walks of life. Sandeep was a wonderful role model to the community, the nation and a world ambassador of seva. Wherever there was misery, a call for help, the need to give back — we would find Sandeep leading the way forward championing for all communities."
Dhaliwal was fatally shot while conducting a traffic stop on Friday afternoon (September 27). He proudly served Harris County, Texas, his country and the world as a public servant and humanitarian. In the wake of hurricanes Harvey and Maria, he led teams of United Sikh volunteers to provide disaster relief to those in need across Texas, Florida and Puerto Rico. In Punjab, India, he led the effort to help us provide humanitarian aid for farmers working to survive a record drought.
In his role as Homeland Security Director, Dhaliwal advised the NGO and the national Sikh community on how to remain vigilant against any potential threats of hate crimes and advocate for their religious rights. United Sikhs established a fund via gofundme for Dhaliwal's wife and three young children to help support their education needs and to continue his aspirations to uplift humanity and his fellow first responders. Within the first few hours of launching the campaign, more than $30,000 in donations poured in from supporters around the world.
The link is available at https://www.gofundme.com/f/rest-in-peace-deputy-singh.
For the latest updates, follow United Sikhs on Facebook, Twitter and Instagram.