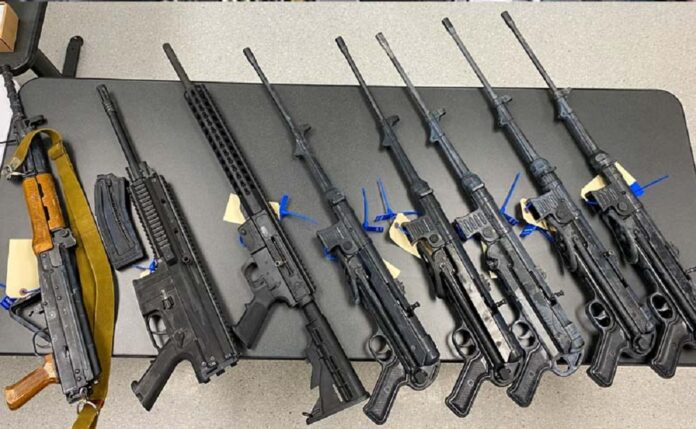 AN investigation by the Coquitlam RCMP's Drugs and Organized Crime Section resulted in the seizure of firearms, drugs, cash and luxury vehicles.
Five Coquitlam residents — three men and two women in their mid-twenties — were arrested on December 8, 2021, and later released pending charge approval. All five individuals are known to police and are linked to the Lower Mainland Gang Conflict.
In September 2020, Coquitlam RCMP received information about an alleged drug-trafficking network that prompted the Coquitlam Drugs and Organized Crime Section to start an intensive investigation. After a thorough multi-jurisdictional investigation, police obtained seven search warrants that were executed between April and December of 2021.
"Coquitlam RCMP would like to thank the Vancouver Police Department, Richmond RCMP, Lower Mainland District Integrated Units, and the Combined Forces Special Enforcement Unit of British Columbia (CFSEU-BC), for assisting with the execution of the search warrants," said Superintendent Keith Bramhill, Officer in Charge of Coquitlam detachment, on Tuesday.
"Supporting partner police agencies like the Coquitlam RCMP is integral to CFSEU-BC's mandate to disrupt gang and organized crime activity in British Columbia," said Staff-Sgt. Lindsey Houghton, NCO in charge of Community and Public Affairs, CFSEU-BC. "This Coquitlam RCMP-led investigation has taken dangerous drugs and firearms off the streets of our communities and will help hold individuals accountable for their blatant disregard for the safety of the public. Multiple police agencies contributing to the overall success of any investigation reflects a collective commitment to combatting organized crime and has a significant impact on deterring criminal and violent behavior."
The evidence seized during the search included:
3 kilograms of suspected fentanyl,
5.4 kilograms of suspected cocaine,
866 grams of suspected methamphetamine,
1.8 kilograms of suspected MDMA,
828.5 grams of suspected ketamine,
100 suspected oxy pills,
200 assorted pills,
8 kilograms of cutting agent,
51,000 suspected counterfeit Xanax pills,
12 semi-automatic carbines, 11 handguns, magazines, and ammunition,
Over $164,000 in cash,
Four luxury vehicles: 2017 Jeep Cherokee SRT, 2018 Audi A7, 2019 Infinity Q50 and 2021 Audi SQ5.
If you see anything suspicious in your neighbourhood, you are requested to call the Coquitlam RCMP non-emergency line at 604-945-1550.