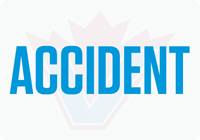 SURREY RCMP are investigating a fatal collision involving a cyclist that occurred on Tuesday morning.
On September 5 at 7:38 a.m., frontline officers responded to a report of a motor vehicle collision in the area of 120 Street and 104 Avenue.
Officers located a cyclist who had succumbed to their injuries. The preliminary investigation indicates the cyclist was travelling westbound on 104 Avenue, east of the intersection of 120 Street, when they lost control of their bicycle and were struck by a semi-truck towing a trailer.
Surrey RCMP's Criminal Collision Investigating Team (CCIT) and Integrated Collision Analysis and Reconstruction Service (ICARS) are investigating. Impairment and speed do not appear to be contributing factors and the driver is cooperating with the investigation.
Police said that 104 Avenue is closed between 122 Street and Scott Road while police conduct the investigation. Drivers are asked to take alternate routes to avoid the area.
If you were in the area of 104 Avenue and 120 Street at or around the time of the collision and either witnessed the collision or may have dash camera footage, you are requested to contact Surrey RCMP at 604-599-0502.