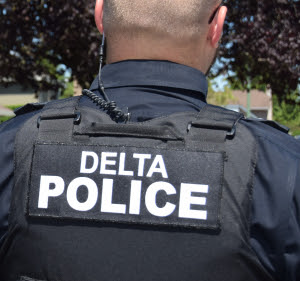 DELTA Police took two separate reports on Wednesday, October 21 of an indecent act being committed in George Mackie Park area in North Delta.
In the first report, a woman contacted Delta Police around 5:15 p.m. about a man she witnessed committing an indecent act on the trail between George Massey Library and North Delta Community Park.
The man was described as South Asian, wearing all black clothing. Unfortunately, there was a delay in reporting the incident to police. Several police officers made patrols in the area, but did not see anyone matching the suspect's description.
Later in the evening, shortly after 10 p.m., a second woman contacted police to report a man possibly engaging in an indecent act in the George Mackie library park, close to the trees. She left the area and contacted police later. She indicated the male was South Asian, approximately 5'7" tall, around 25 years old, and was wearing a dark hoodie and jeans. Again officers patrolled the area, but were not able to find any suspects.
"We're going to have a higher police presence in the area over the next while," said Inspector Ciaran Feenan, head of Delta Police frontline patrol. "Please, if you spot anyone committing what you suspect is an indecent act, call 9-1-1 as soon as possible, so police can respond quickly."
The public is advised to take additional precautions when walking or running in this area, such as walking with another person and carrying a cell phone. The police investigation into these incidents is ongoing.