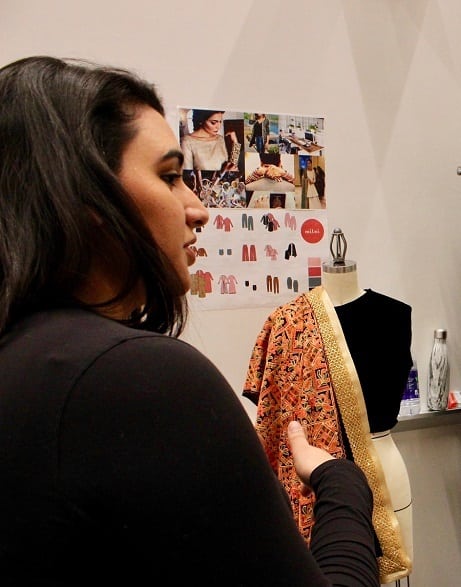 INDO-WESTERN fusion and contemporary South Asian-inspired fashion will rule the runway this spring.
Kwantlen Polytechnic University (KPU) students Jasmin Dhillon and Chelsea Manansala are set to unveil their collections on April 19 and 20 at the Wilson School of Design's 2018 The Show.
Surrey residents, Dhillon and Manansala are now in their final semester at KPU and will debut their lines in a grand finale of the four-year fashion design and technology program.
The program required students to individually conduct thorough research on a market with a specific need and then design a collection that caters to that need.
Both women were inspired by the South Asian culture of their hometown of Surrey.
"The initial inspiration for this collection came from my cultural background. I try to incorporate a little bit of that in everything that I do," said Dhillon who grew up in and still resides in Surrey. "In the [South Asian] culture, it is quite rare to repeat outfits as you are with the same group of family and friends, and one event includes five days of functions, each requiring a new outfit."
Milni, Punjabi for "coming together," perfectly describes Dhillon's merging of her South Asian roots with Western Canadian influences.
"By creating a fusion line, I hope to allow women to mix and match these pieces in her traditional wear and also reuse them in their western wardrobes," said Dhillon.
Not of South Asian heritage herself, Manansala grew up in Surrey and the South Asian community made a deep impression on her at an early age. She created her line Misarana to celebrate her multicultural neighbourhood. Her collection features delicate florals in deep hues of colour in a modern interpretation of South Asian traditional dress.
"I grew up in a multicultural world and appreciate other cultural traditions and clothing," said Manansala. "I'm fascinated in particular by South Asian food, music, and dress. I observed how the younger generation dressed in comparison to older generations, and realized that young South Asian women were searching for a more contemporary twist on their traditional dress."
For more on Dhillon, Manansala and their collections, follow their Instagram accounts: @milni_ and @houseofmisarana.