VANCOUVER Fire and Rescue Services (VFRS) was dispatched to a fire on Monday at 10:57 a.m. at a brick four-storey building in Gastown, the Winters Hotel, on 203 Abbott Street.  The fire was quickly upgraded from a third- to a fourth-alarm fire due to the complexity of the incident and its rapid growth.  At present, 60 firefighters are on scene and crews are engaged in a full defensive fire attack. Crews are expected to remain on scene overnight.
VFRS crews rescued multiple occupants including five who were taken to hospital. Displaced residents are being relocated with the assistance of the City's Vancouver Emergency Management Agency (VEMA), BC Housing, and Atira Property Management. Surrounding buildings were also evacuated and officials on scene are currently assessing what locations are safe to return to for residents.
VFRS continue to work with the Vancouver Police Department (VPD), and the City of Vancouver, as well as other external agencies to maintain a secure perimeter and coordinate further action as required.
The cause of the fire is still unknown.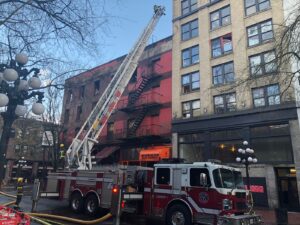 The area will be blocked off until further notice for fire scene investigation and safety assessments.  All people are strongly advised to avoid the area between Carrall and Cambie streets and Water and Cordova streets. Residents and businesses are advised to keep windows and doors closed due to potential smoke exposure.
On scene large fire on Abbott St.@VanFireRescue @CityofVancouver

Several occupants rescued pic.twitter.com/65n12IQmKm

— Karen Fry (@Karen_Fry) April 11, 2022