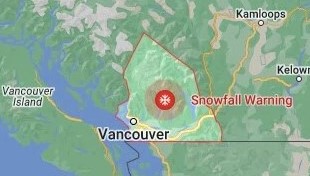 ENVIRONMENT Canada says heavy snow is expected Saturday night in Metro Vancouver, the Fraser Valley, Howe Sound, Whistler, and Sea to Sky highway – from Squamish to Whistler – with total snowfall amounts ranging from 15 to 25 cm with local amounts up to 35 cm.
A significant weather system will push across the South Coast this weekend bringing widespread snow to the region. Periods of light snow will start on Saturday afternoon and intensify to heavy snow in the evening. Heavy snow is expected to ease early Sunday morning for most regions.
Rapidly accumulating snow will make travel difficult. Visibility may be suddenly reduced at times in heavy snow. Surfaces such as highways, roads, walkways and parking lots may become difficult to navigate due to accumulating snow.