Victim's mother says she was told her son was stabbed after he asked the attacker not to vape near his daughter
INDERDEEP Singh Gosal, 32, has been charged with second-degree murder following a stabbing outside a downtown Vancouver Starbucks on Sunday evening.
Vancouver Police are seeking additional witnesses to the crime.
"We believe this homicide was witnessed by dozens of bystanders, and there may be people with information who have not yet come forward," said Sgt. Steve Addison on Monday.
"We particularly want to hear from anyone who was present in the moments before the stabbing, or anyone who has cell-phone video of the incident."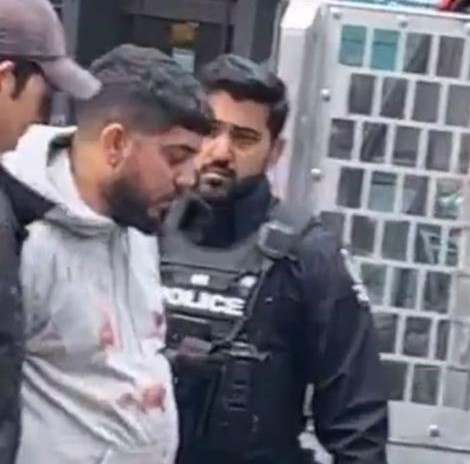 The fatal stabbing occurred around 5:40 p.m. on Sunday, following a brief altercation between two men outside the Starbucks at West Pender and Granville streets.
A VPD constable patrolling in the area was flagged down moments after the stabbing, and arrested the suspect at the crime scene. Additional VPD officers attempted to save the victim's life by performing first aid, however he succumbed to his injuries after being rushed to hospital.
Paul Stanley Schmidt, 37, has now been identified as the victim. He is Vancouver's sixth homicide victim of 2023.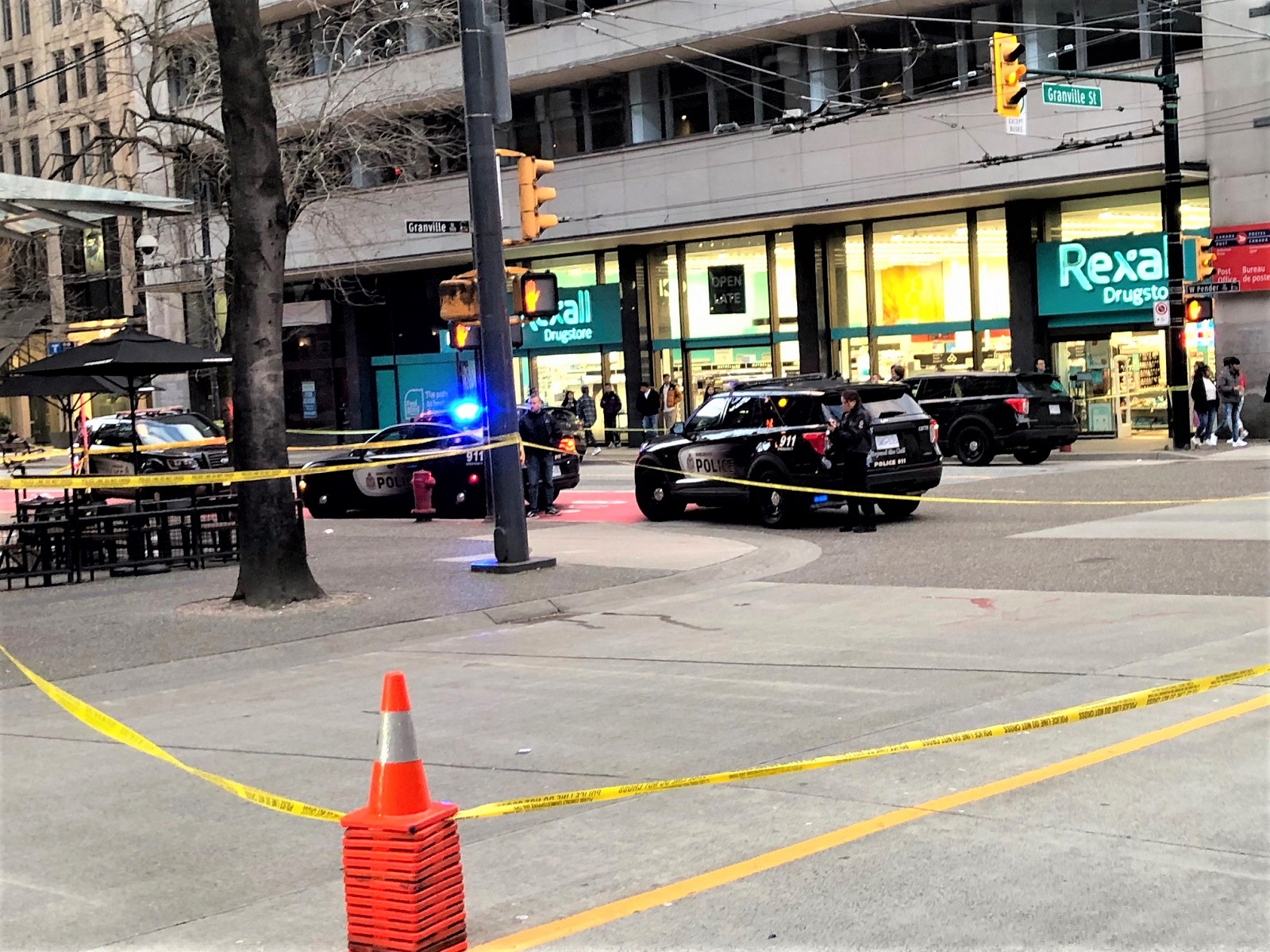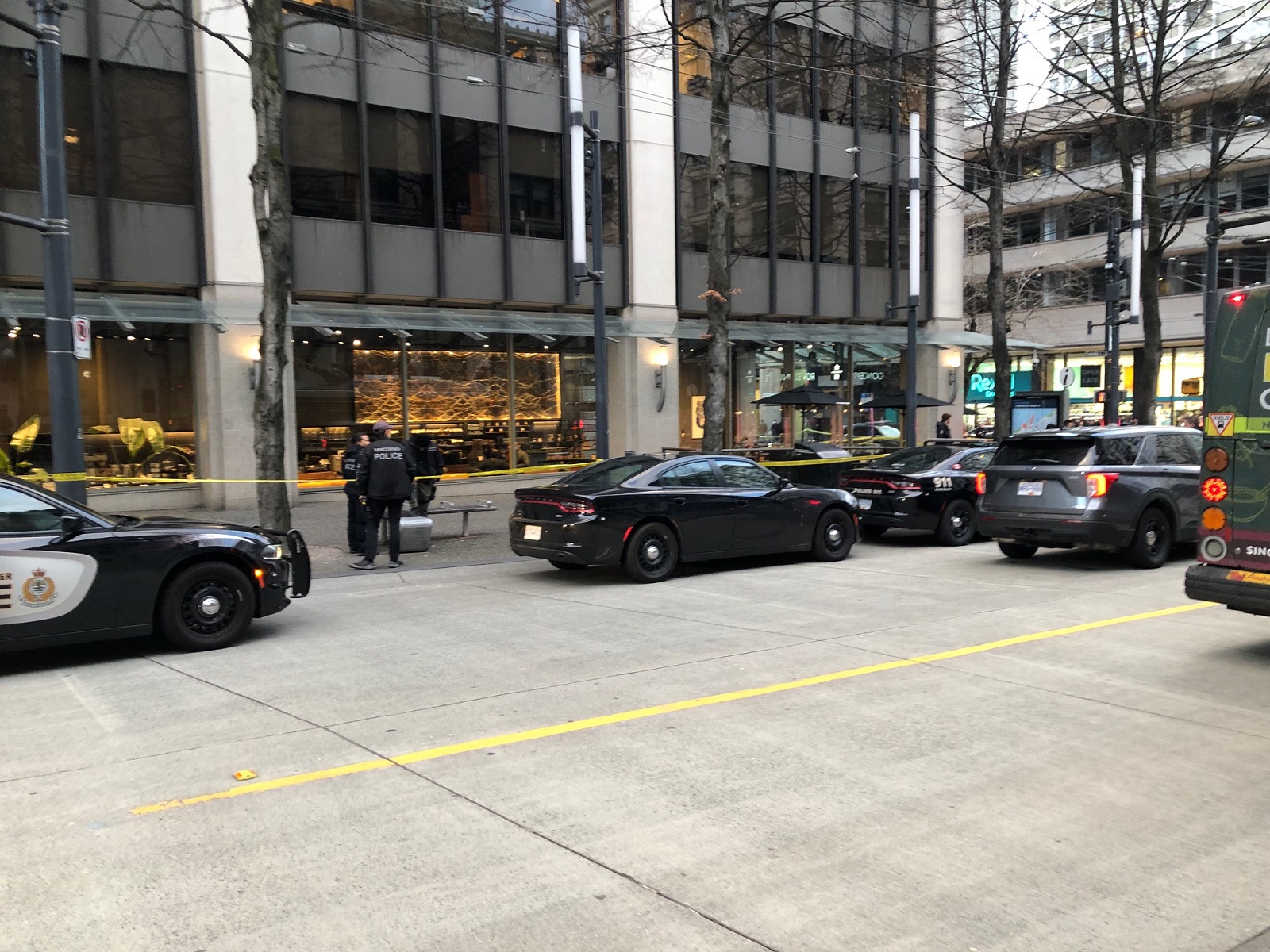 Investigators do not believe the victim and suspect knew each other, however the circumstances that led up to the fatal stabbing remain under investigation.
The victim's mother, Kathy Schmidt, told the CBC from Kelowna that her son Paul was picking up his wife from work. Their three-and-a-half-year-old daughter was with them.
According to her, Paul's wife went into Starbucks to buy drinks while he remained outside with their daughter.
Kathy told the CBC that when the victim's wife came out, the other person was in Paul's face and told her to grab her daughter.
The two men then started to fight with Paul being stabbed.
Kathy told CTV News that she was told that the attacker was standing beside the daughter's stroller vaping. Paul asked him not to smoke in front of her and that led to the altercation.
A man who witnessed the incident told Global BC that the attacker then entered the Starbucks and he heard people screaming.
A video of the fight shows that it took place just outside the West Pender entrance to the Starbucks.
There was a massive Vancouver police presence on Sunday evening at the scene of the crime just outside Starbucks that had been cleared of all customers. Blood could also be seen on the west side of Granville Street at West Pender Street that had been taped off.
Anyone with information who has not yet spoken to police is asked to contact VPD's Major Crime Section at 604-717-2500.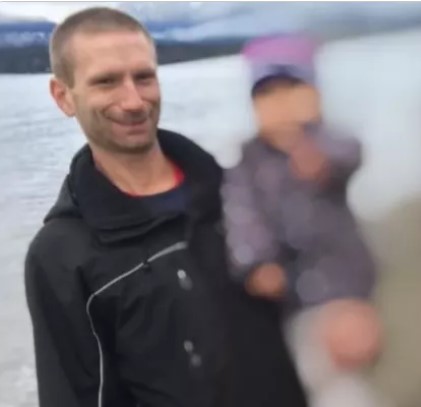 A GoFundMe has been set up by the Dr. Sun Yat-Sen Garden Society of Vancouver to support Schmidt's family:
www.gofundme.com/f/please-support-the-family-of-paul-stanley-schmidt
On Tuesday, the organizer said: "We are in touch with the Paul's wife's family as our Executive Director is close with the cousins. We would like to kindly ask everyone out there to be respectful to the family's wishes and not circulate the horrific video footage that has been shared on social media."