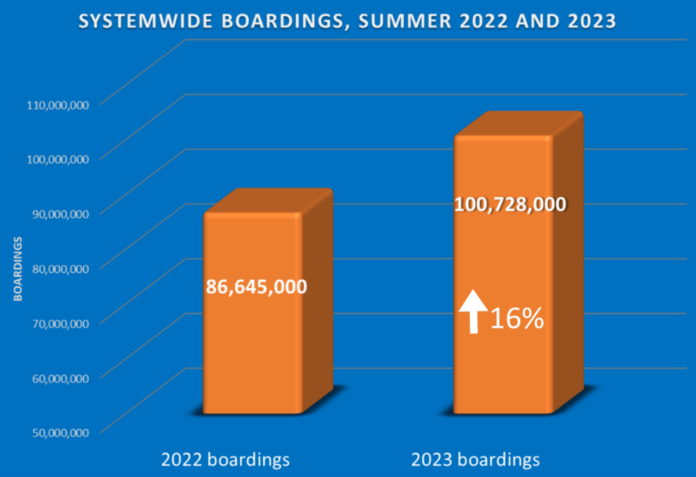 THE Mayors' Council on Regional Transportation on Tuesday at the Union of BC Municipalities (UBCM) Annual Convention warned that time is running out for the provincial and federal governments to commit new funding for public transit expansion amid surging ridership in the Metro Vancouver region.
With all levels of government working together to accelerate the development of affordable housing, the Mayors' Council urged the provincial and federal governments to commit funding for the Access for Everyone transit expansion plan, which will enhance access to new affordable housing developments throughout the region and better serve existing communities where transit ridership is already overcrowded.
The plan will double bus service over the next decade, build nine new Bus Rapid Transit lines and increase funding for active transportation infrastructure by a factor of 10.
New data from TransLink shows overcrowding on its system is rapidly worsening. By 2025, almost 4 in 10 rush hour bus trips will be severely overcrowded, leaving tens of thousands of commuters every day watching full buses pass them. Metro Vancouver leads all major North American cities in post-pandemic rapid transit ridership recovery. Transit ridership in Surrey and Langley is at 120 per cent of pre-COVID levels with some routes in these fast-growing communities seeing ridership more than double over the past four years.
Transit service was frozen at 2019 levels due to the pandemic, while since then the region's population has grown by more 200,000, with 50,000 more people arriving every year. The region's transit service levels per capita are now back to 2016 levels and this metric will continue to decline given rapid population growth, unless new service is urgently added.
The TransLink Mayors' Council is in the process of finalizing the projects and initiatives to be included in the first phase of TransLink's new Access for Everyone plan. The plan will need funding commitments no later than June 2024 to stay on track to begin expanding transit service in late 2024 in line with population growth and to support new housing targets.
"The region's population is growing at a record pace while our housing affordability crisis deepens," said Port Coquitlam Mayor Brad West, Chair of TransLink's Mayors' Council. "As mayors, we are concerned that any delays in expanding transit service will make it very difficult for city councils and builders to expand housing in our communities as quickly as is needed. The window for the provincial and federal government to take action is getting very small."
"Essential infrastructure like public transit needs to keep up with population growth so we can ensure new housing is accessible and residents have affordable transportation options," said Burnaby Mayor Mike Hurley, Vice Chair of the Mayors' Council. "Time is running out. We're asking the federal and provincial governments to commit to funding their share of the Access for Everyone plan, starting in 2024."
A public opinion poll from August 2023 shows that four-in-five (79 per cent) of Metro Vancouver residents agree it is crucial that governments are proactive in building transit in response to population growth. The data further shows that 73 per cent of residents support the Access for Everyone plan and believe it will have a positive impact on them personally.
"The public expects regional leaders to work together with their provincial and federal counterparts to come up with solutions to make life better here," said Vancouver Mayor Ken Sim. "Delivering new transit service next year is our shared priority as mayors, and we need our senior government partners at the table to make it happen."
"TransLink is leading North America in ridership recovery," said Kevin Quinn, CEO of TransLink. "The Access for Everyone plan will support this strong growth, while tackling issues of affordability and supporting provincial and federal climate goals. By investing in better bus service and cost-effective rapid transit technologies, better roads, and active transportation, we can provide people with more options to move around this region."
"Municipalities are leading the way in Canada's response to the housing crisis," said Scott Pearce, President of the Federation of Canadian Municipalities. "Local leaders want greater collaboration across all orders of government to ensure municipalities have not only the resources to meet new housing and record-setting population growth demands, but the essential infrastructure – like ambitious public transit – that ensures communities can sustain the kind of growth we anticipate. Predictable and stable investments in infrastructure are essential to that goal."
The public opinion survey was conducted in August 2023 using an online panel. Details on poll results and methodology are available on the Mayors' Council website.