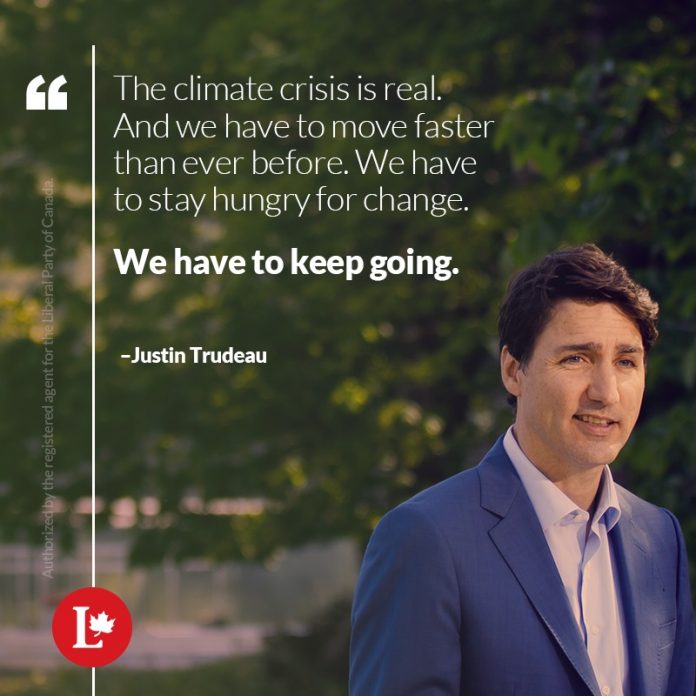 THE Liberal Party of Canada on Tuesday released three new TV ads to highlight that a re-elected Liberal government will continue to take decisive action to fight the climate crisis.
"In October, you get to choose. We can go back to the Harper years, when the Conservatives did nothing about climate change – or fight for a better future," said Liberal Party Leader Justin Trudeau, in one of the new ads. "I'm for moving forward for everyone. It's that clear – and it's that important. The future of our planet is at stake."
The ads launch comes at the start of Global Climate Action Week. In the coming days, the Liberals say they will announce further ambitious action to combat the climate crisis – the defining global issue of our time. The science is clear, the evidence is clear, and Canadians are clear – we must step up and protect our environment. Our kids and grandkids are counting on us.
Over the last four years, the Liberal government took significant action to protect our environment for generations to come, including:
putting a price on the pollution that causes climate change;
banning harmful single-use plastics;
protecting nearly 14 per cent of Canada's coasts and marine areas;
building 1,200 public transit projects across the country;
making zero-emission vehicles more accessible and affordable;
investing in energy efficiency to help families and businesses save money;
committing to phase out coal power by 2030, and investing in renewables like wind and solar;
safeguarding our oceans and coasts with our historic Oceans Protection Plan; and
making the largest conservation investments in Canadian history.
"A better future doesn't just happen. We make it happen," said Trudeau. "Andrew Scheer doesn't think it's possible to grow the economy and fight climate change. He's wrong. Our plan will create jobs, reduce pollution, and leave a healthier planet for our kids and grandkids."
New Liberal Ad: Choose Forward — Grouse Grind
New Liberal Ad: Choose Forward — Climate Action
New Liberal Ad: Choisir d'avancer — l'environnement