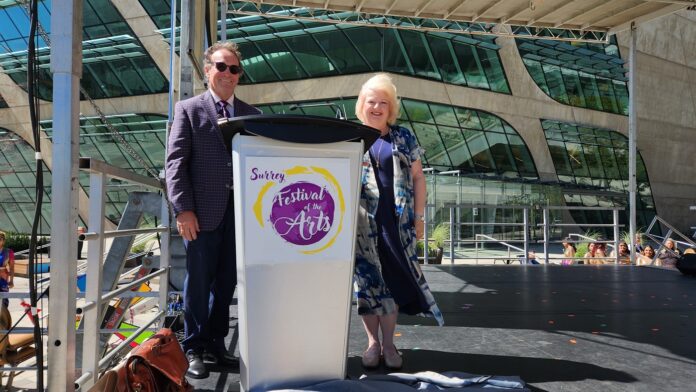 IT'S an idea three years in the making – and on Friday, an all-new major arts festival that Surrey can call its own, was unveiled with a public launch event at Surrey Civic Plaza.
The Surrey Festival of the Arts will make its debut one year from now, in mid-August 2024. The festival's official logo was unveiled as details were announced at the launch, which also featured live music from a range of Surrey-based performers, and a visual arts show, as a preview of what's to come.
"The event aims to be multicultural and plans to attract participation from all of Surrey's diverse and multicultural communities," said John Kearns, chair of the not-for-profit society organizing the festival. "The idea was born in May 2020 during COVID, when several Surrey-based artists, musicians and the theatre community collectively found support from some business and local government representatives. Together, they developed a strong mutual interest in creating Surrey's own multi-year festival of the arts. Today, we're pleased to announce the work has paid off, and we're planning to hold the first festival next year at the Cloverdale Fairgrounds."
"Arts festivals are known for boosting tourism and bringing economic and lifestyle benefits into their host communities. Everyone benefits from events like these, and we hope to gain the support of Surrey residents and sponsoring businesses to make the festival a success," Kearns said.
The performances at Friday's launch provided a sample of what the community can expect at the 2024 festival which is scheduled for August 16 and 17 next year. The Surrey City Orchestra, bluegrass trio Jackson Hollow, singer and guitarist Gaz Beaumont, BC Country Music Association Award winner- Female Artist of the Year, Canada's Independent Country Artist of the Year Karen Lee Batten, Spirit of Surrey Dance (Indian Classical dance, Hip-hop, and Bollywood choreographed by Simran Sidhu) and the Folk Star Arts Academy (traditional and conventional Punjabi dance forms, instrumentals and singing) all shared the stage.
"We have big plans for the future," Kearns added. "Today, we're starting by announcing year one, but in future years, we hope to expand beyond a single mainstage site and spin off additional portions of the festival to additional locations around Surrey, making it a true, city-wide celebration."
The Surrey Festival of the Arts volunteer committee consists of theatre directors, visual artists, musicians, professional singers and dancers, the Surrey City Orchestra, and well-known event organizers and fundraisers. Their mission is to create and produce an annual summer festival in Surrey, featuring theatre, dance, musicians, orchestra and visual art components.