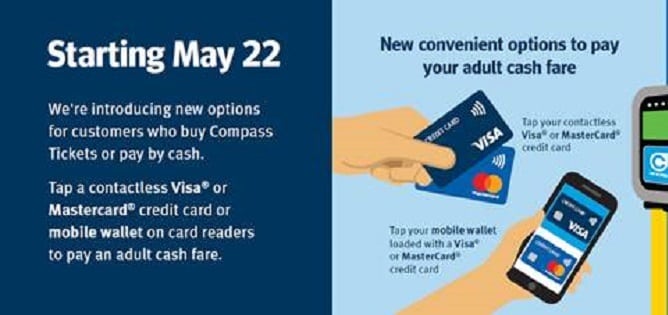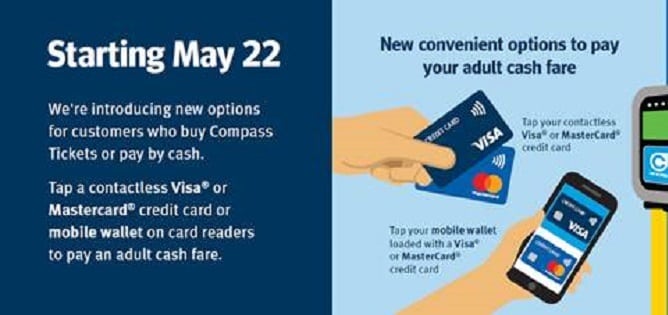 TRANSLINK has become the first Canadian transit authority to offer credit card and mobile payment throughout its system.
Starting Tuesday (May 22), customers have more ways to pay for transit trips in Metro Vancouver. TransLink's "Tap to Pay" feature allows customers to pay their adult fare by tapping a contactless Visa or Mastercard credit card, or mobile wallet at fare gates and on buses.
TransLink becomes the first transit authority in Canada to offer credit card and mobile wallet payment options to directly ride its system. TransLink says these new payment options are part of its ongoing efforts to provide its customers with better and more convenient services.
The new Tap to Pay options are meant to provide a more convenient option for occasional riders and tourists:
· Customers can now tap directly on card readers with a contactless Visa or Mastercard credit card, or a device with an Apple Pay, Google Pay or Samsung Pay wallet.
· Customers will no longer need a Compass Card or ticket to pass through fare gates, or exact change for the bus.
· With these new, convenient payment methods customers can transfer seamlessly across all modes in the same way as customers with Compass Cards.
· Just like with Compass Cards and tickets, customers should tap in and out. Buses are tap-in only.
While Tap to Pay brings a new level of convenience for tourists and infrequent riders, the Compass Card will continue to be the payment method of choice for regular riders as it offers discounted rates.
The launch of Tap to Pay also means it's more important than ever for customers to watch out for card clash:
· Card clash occurs when multiple payment methods are tapped on a card reader at the same time — for example, when a customer taps their wallet or a phone case with multiple cards inside.
· TransLink is reminding customers to remove their Compass Card from their wallet or phone case before tapping it on a card reader.
· If a customer presents more than one payment method to a card reader, the system will charge the first one it detects, which may not be the one the customer intended for payment.
· Customers who experience unexpected charges can contact Compass Customer Service at 604-398-2042.
Kevin Desmond, CEO, TransLink, says: "Tap to Pay is about giving our customers more choices. If you're an everyday transit user then you are going to want to keep using the Compass Card for its discounted rates. If you're a visitor to Vancouver, or you're going to a concert or sporting event and only ride transit on occasion, tapping a credit card or mobile wallet is a new option for you to get on our system quickly and easily – no ticket line ups and no need for cash."
Bowinn Ma, Parliamentary Secretary for TransLink and MLA for North Vancouver-Lonsdale, adds: "I am thrilled to see TransLink continue to innovate and find new ways to make public transit more efficient and enjoyable for even more people. Increasing access to public transit is an important part of giving people more transportation options and I'm excited to see the positive impacts this will have on Metro Vancouver's public transit network."
Derek Corrigan, Chair, Mayors' Council, notes: "The launch of this technology is a testament to TransLink's commitment to improving the transit experience for its customers. This initiative will make it easier for all riders to explore what our region has to offer. Along with the recent upgrades to Metrotown SkyTrain Station, it's great to see these continuous improvements that make transit more accessible and convenient to use."
Ty Speer, President and CEO, Tourism Vancouver, points out: "TransLink's new Tap to Pay system is great for visitors. We know from our most recent visitor exit survey that 43% of Vancouver visitors are already using some form of public transit during their stay. This new system makes it even easier for more tourists to use transit which, in turn, will help fund Vancouver's transportation system making it even better for locals."