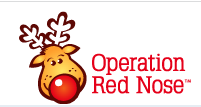 THE return of Operation Red Nose's road safety campaign in 74 host communities across Canada, from November 25 to December 31, was nothing but good news.
With a mission to make roads safer during the holiday season, the organization managed to mobilize no less than 22,903 volunteers in the country who, by joining forces, were able to provide 26,412 motorists and their passengers with a safe ride home.
In BC, 1,188 people braved winter conditions to provide 1,630 safe rides to their fellow citizens. These numbers demonstrate the relevance of Operation Red Nose and its mission still today, and the attachment of the population to the program, says the organization.
From New Brunswick to British Columbia, 74 local host organizations worked diligently to deploy this impressive initiative. "Operation Red Nose is an initiative provide to the community, by the community. A lot of preparation goes into the campaign, and challenges to put teams on the road are numerous. Without the dedication of thousands of volunteers, this unusual idea, back in 1984, could not have aspired to such consistent success, year after year. I want to thank these generous people from the bottom of my heart," says Jean-Marie De Koninck, Founder of Operation Red Nose.
In addition to the safe rides provided, Operation Red Nose directly supports the communities where the service is deployed with donations raised during the campaign being redistributed to local youth and amateur sports organizations.
ICBC, partner of Operation Red Nose, says it was delighted with the return of the program on B.C. roads and the success of this year's campaign. "Thanks to the efforts of local Operation Red Nose programs and dedicated volunteers across the province, many British Columbians were able to get home safely this holiday season. We're proud to partner with this recognized organization which, for more than two decades, has helped keep our roads safer during this time of celebration," said Robin Bell, ICBC road safety program manager.