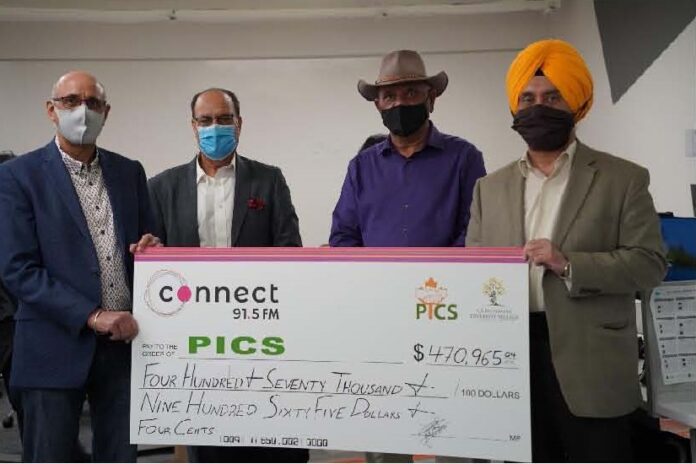 THE Progressive Intercultural Community Services (PICS) Society in collaboration with ConnectFM 91.5 organized a Vaisakhi Radiothon on Tuesday, April 13 to raise funds for Guru Nanak Diversity Village (GNDV), an upcoming long-term care facility that will provide culturally-sensitive care for South Asian seniors.
This radiothon was the first fundraising event of 2021 for this facility and through the community's overwhelming support over $470,000 were raised in 13 hours.
In September 2020, the Provincial Government announced the approval of this 125-bed, three-storey long-term senior care home to be built in Surrey. GNDV is a $58.3 million project, with $5 million to be raised by the community as its contribution to the project.
This facility's name is a dedication to Guru Nanak Dev ji, who advocated and preached ideals which were based on diversity and equality for all. The radiothon coincided with other community festivities of Vaisakhi, Ramadan, Navratri, and various other harvest celebrations, truly signifying community connections while bringing them together for supporting and contributing towards GNDV.
"On behalf of PICS Society, I want to thank and commend all the volunteers, guest speakers, staff, management and hosts of ConnectFM, as well as the PICS staff and the organizing team for the success of this radiothon," said Satbir Cheema, President and CEO of PICS.
"I also want to express my sincere thanks to all the donors for their contributions, especially Premier John Horgan and [Surrey] Mayor Doug McCallum for kick-starting our Radiothon with their donations for Guru Nanak Diversity Village."
This event was organized and held keeping all COVID-19 health precautions and guidelines as outlined by the Provincial Health Authority. There was an overwhelming response from the community and donations continue to pour in.
If anyone was unable to join the radiothon and contribute towards GNDV, they may still send in their donations directly to PICS Society. Tax receipts will be issued for all eligible donations.