PREMIER John Horgan and his NDP remain in a strong position in British Columbia, according to an Angus Reid Institute poll.
The Angus Reid Institute noted:
"British Columbia's Dr. Bonnie Henry noted that as early as September 7, the province's reopening plan could enter Phase Four, meaning that Canucks fans may be able to watch their team in person when the season kicks off in October. B.C.'s dropping cases and the province's reopening plan have helped Premier John Horgan to generally maintain his approval level at 63 per cent – down three points from last quarter.
"The B.C. government shines when respondents rate its handling of COVID-19 as well as health care more broadly. That said, there are persistent challenges. The province receives among the worst ratings in the country for both housing affordability and dealing with addiction and drugs. Two-in-five (39%) say the BC NDP is handling the environment well, despite months of ongoing and politically problematic protests on Vancouver Island. At issue: the logging of old-growth forest near Fairy Creek, B.C.
"British Columbians went to the polls this past October, handing the BC NDP a majority government, and voter sentiment has changed little in the months since. The opposition BC Liberals are attempting to do something about that, with the party in the midst of a leadership race. One candidate has suggested shedding the party name altogether."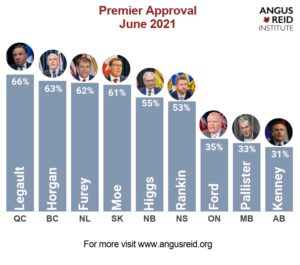 ACROSS Canada, Ontario's Doug Ford and Alberta's Jason Kenney are experiencing notable pandemic-related declines in job performance approval, which in turn are affecting – at least for now – their parties' respective political fortunes.
Ford, whose personal approval soared to almost 70 per cent in the spring of 2020, is now at half that level, down 15 points since last quarter. To the west, Albertans are souring on Kenney, fewer than one-third (31%) approve of his performance, off nine points over the last three months.
On the other end of the spectrum, this has been a period of Atlantic Canadians warming to relatively new premiers. Premier Andrew Furey's approval gained 17 points in Newfoundland and Labrador, from 45 per cent in March to 62 per cent. And Iain Rankin, whose performance half of Nova Scotians had no opinion of last quarter, gained 22 points in approval, up to 53 per cent.
Link to the poll here: www.angusreid.org/