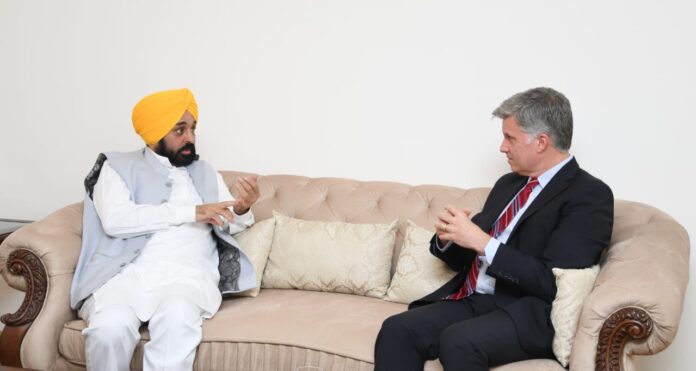 PUNJAB'S Chief Minister Bhagwant Mann on Friday requested Canadian High Commissioner in India, Cameron MacKay, for help in catching Indian gangsters operating in Canada and creating law and order problems in his state.
Mann tweeted after meeting MacKay at his residence in Chandigarh: "Discussed during the meeting with the High Commissioner of Canadian Affairs @HCCanInd in India. He considered my request and promised a speedy solution."
MacKay tweeted: "Good discussion with Punjab Chief Minister Bhagwant Mann about the strong connections between Canada and #Punjab. We will work together to support the rule of law and robust cooperation between our law enforcement agencies … Looking forward to building on our first meeting."
The request from Mann comes in the wake of the brutal murder in Punjab of internationally famous singer Sidhu Moose Wala who was based in Brampton, Ontario. Indian police has alleged that Moose Wala's killing was ordered by a Canada-based Punjabi gangster.
Indian police has alleged that Goldy Brar, linked to the Lawrence Bishnoi gang in Punjab, has claimed responsibility.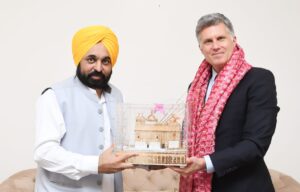 Indian media has reported that Interpol has issued a Red Corner Notice against Satinderjeet Singh alias Goldy Brar. Brar, a native of Sri Muktsar Sahib, went to Canada on a student visa in 2017.
The Indian Police's allegations against Brar have not been proven in court and Brar has not made any statement on them.
According to Indian media, Mann expressed concern over the mushrooming of gangs and gangsters in both countries. Mann alleged that gangsters operating from Canadian soil were disturbing the hard-earned peace of the state. He said besides creating law and order problems, the gangsters were trying to derail the progress of the state, the Tribune newspaper of Chandigarh reported.
The newspaper reported that Mann said the gangsters should be punished under the most stringent provisions of the law so that it acted as a deterrent for others.
Mann called for joint police operations between Canada and Punjab, saying that it was the only way "to free both these lands from gangsters".
He asked MacKay to explore the feasibility of having a direct tie-up between the police forces of Punjab and Canada to put gangsters behind bars. He said it had become imperative as gangsters and their actions were posing a serious threat to life, economy and society in both countries, as he hoped for robust cooperation between the two, the Tribune reported.
ALSO READ:
Moose Wala murder: Two shooters from Maharashtra identified, police say