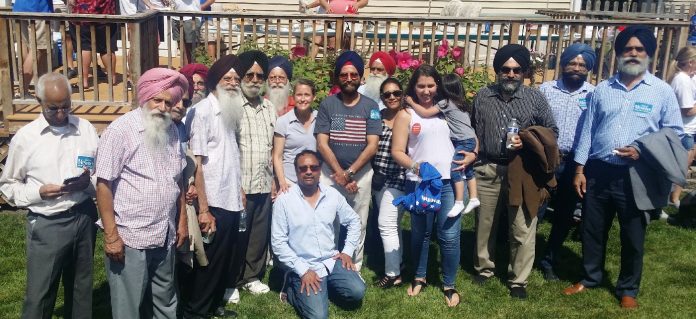 A group of Sikh community members from the northwestern suburbs of Chicago participated in the village of Schaumburg, Illinois' 49th edition of the annual Septemberfest celebrations and the Labor Day Parade on September 2.
The Sikh contingent in their colorful turbans carrying US flags started with the parade on Wise Road and marched north for about two miles on Summit Drive to the Septemberfest grounds at the Schaumburg Municipal Center.
"Our community must come out of its shell to participate in the mainstream American neighborhood events like these, meet people, local leaders, get civically engaged, register to vote, and cast vote to elect fair-minded officials who support our community causes," said Rajinder Singh Mago the coordinator of the parade participation for the group. "It brings the community together including us as an integral part."
Schaumburg's Septemberfest Parade has become a long-standing Labor Day tradition for many of the community members who line Summit Drive each year. Several homeowners along the two-mile parade route even throw lawn parties — complete with food and games — to watch the high school bands, youth sports teams, community organizations, elected officials, political candidates, local businesses and other entries pass by.
Septemberfest is an annual three-day festival held over the Labor Day holiday weekend. The festival was established in 1971 by local charitable organizations as a way to raise funds while providing an alternative to holiday travel for local residents. The Labor Day celebration draws approximately 250,000 people to the event annually, with the majority of festival patrons from Schaumburg and the surrounding communities. The festival is designed as a family event, which is reflected by the makeup of the patrons.