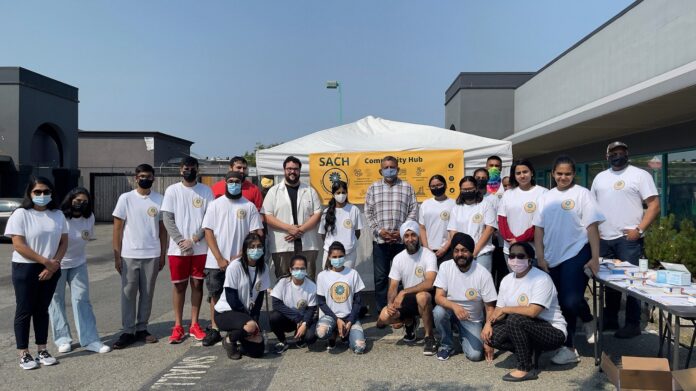 THE COVID-19 pandemic has laid bare many of the ongoing social and systemic challenges we face as a society. Many families and individuals living throughout the Lower Mainland including new immigrants, refugees, and IBPoC [Indigenous, Black and People of Colour] community members are unaware of, or unable to, connect with the resources available to assist them in their well-being. In addition to the pandemic, we have seen an increase in the number of people facing mental health and substance use challenges, stigma, linguistic barriers, cultural biases, difficulty in accessing health and social services, homelessness, food insecurity, and other socioeconomic issues.
On B.C. Day, we hosted a community event to serve and support community members living in the Newton area. This location is home to many racialized individuals and families who are underserved by the current healthcare and social systems, particularly relating to cultural, religious, and linguistic inclusion. At this event, the SACH Community Hub was on site sharing information and connecting individuals to services and supports available in the community. We provided refreshments, personal care and harm reduction supplies, informational resources, and offered on-site counselling and naloxone training.
SACH Directors and organizers who launched the event included Harman Singh Pandher, Anita Lal, Allysha Ram, Upkar Singh Tatlay, and Gary Thandi, as well as partner agencies Moving Forward Family Services, Engaged Communities Canada, and the Ministry of Social Development and Poverty Reduction.
SACH community collaborators and supporters who came out to participate in the event included Sukh Dhaliwal, MP for Surrey-Newton, Bilal Cheema of Cheema Strategies Inc, Ali Haidar from International Development and Relief Foundation (IDRF), Tariq Tyab and Yusuf Siraj from BC Muslim Association (BCMA), Students Overcoming Substance Use Disorder and Addictions, Poetic Justice Foundation, Royal Academy of Bhangra, Sunfarm Produce and Groceries in Khalsa Business Center in Surrey, BrandMe in Langley, as well as Raj, Kirti, and Gurpreet Arneja of Nanak Foods. We also want to thank and acknowledge our youth volunteers and future leaders who joined us.
Services we provide connection to include:
* Income assistance and obtaining identification
* Counselling
* Substance use treatment and harm reduction services
* Food security and personal hygiene supports
* Victim services
* Housing
* Referrals to other community resources
SACH Community Hub was founded to foster the health and well-being of underserved diverse communities living in British Columbia by providing low barrier services, counselling, and advocacy through a South Asian perspective and in a culturally-informed safe space.
A unique interfaith community approach
The vision for our partnerships is to unite and serve diverse communities living in and around Surrey. SACH Community Hub is an open and inclusive organization based on shared humanitarian principles. To date, we are partnered with members from the Muslim Food Bank and Community Services, BCMA, IDRF, and Foundation for a Path Forward.
SACH is currently providing services at various temporary locations around Newton. Our goal is to have a permanent location in the area to support the community. Please connect with us if you are able to provide support or assistance in finding an appropriate location. For volunteers, donations, sponsorships, or to learn more please visit www.sachbc.ca or contact us at info@sachbc.ca.
SACH wishes to acknowledge the ongoing support it receives from the BC Ministry of Social Development and Poverty Reduction. The solid working relationship between the Ministry and SACH is an integral part in increasing access to services for underserved and racialized communities.
(Article and photo by SACH Community Hub)