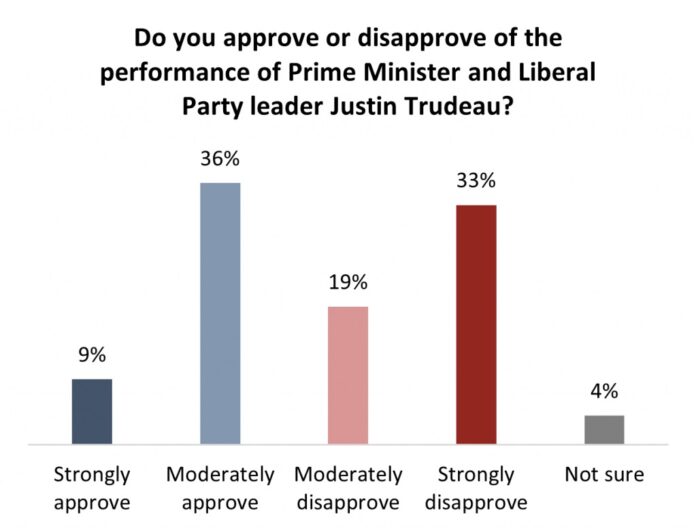 CRITICISM, uncertainty and delays have beset Canada's COVID-19 vaccine rollout and bedevilled the Trudeau government since the beginning of the year. Now, new data from the non-profit Angus Reid Institute sees these factors also suppressing positive views of the prime minister.
Prime Minister Justin Trudeau's personal approval has dropped five points from where it stood in both December and January, suggesting that the fallout from vaccination delays has hurt his standing. Indeed, a majority of Canadians say the Liberal government had done a poor job of securing doses. Canadians now largely view him with either moderate approval (36%) or strong disapproval (33%).
But while vaccination woes have had a dragging effect on how Canadians view the prime minister personally, the federal political picture is statistically unchanged since last month. The latest vote intent data show a narrowing between the Liberal and Conservative parties from a five-point gap to three points – with the incumbents down by a point, and the main challenger up a point. The NDP continues a slight but gradual climb in vote intention to 20 per cent.
Further, no one opposition party or respective leader appears to be poised – at the moment – to break through among the Canadian electorate. Conservative Party leader Erin O'Toole has seen his own favourability among Canadians decline again in the last month. And while NDP leader Jagmeet Singh continues to be viewed more favourably than other party leaders, it remains to be seen whether his party can meaningfully climb above the 20 per cent mark.
The Angus Reid Institute's polling shows the Liberals have managed to climb out of political ditches in the past. One key determinant in the coming months will be whether a long-promised arrival of significant vaccine supply enables the Trudeau government to emerge from this period without major damage to its electoral prospects.
More Key Findings:
The Conservative Party leads over the Liberals in western provinces British Columbia (+3), Alberta (+27), Saskatchewan (+47), and Manitoba (+14). The Liberal Party leads in Ontario (+11), Quebec (+14), and Atlantic Canada (+24).
Trudeau's strong disapproval numbers are driven by past CPC voters, three-quarters of whom view him this way (74%). Only 21 per cent of past Liberal voters strongly approve of the PM.