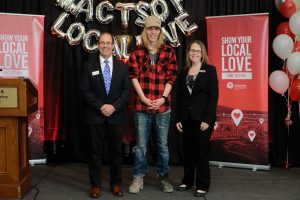 UNITED Way of the Lower Mainland is providing $70,000 to gang-prevention program In It Together, operated by Abbotsford Community Services.
The funding was announced as part of the Fraser Valley Community Spirit Awards on May 7, recognizing United Way donors and the impact their generosity is having in the Fraser Valley.
At the same event, United Way also presented Abbotsford Community Services with its Fraser Valley Spirit of Community Award, recognizing the valuable impact of the agency's services for local residents.
"United Way is proud to support the In It Together program, a truly local, high-impact approach that has garnered incredible support from local residents. When programs are paired with the passion and action of local citizens, we can create community-wide solutions to gang violence," said Yves Trudel, Regional Director, Fraser Valley, United Way of the Lower Mainland.
"We're so grateful for this continued partnership with United Way. Without their earlier support, we would have had to literally close our doors last year and lost skilled staff members and our long-term relationships with youth. United Way helped us through the interim period without government funding and are continuing to recognize this critical need by contributing funds to increase the services we can provide to at-risk youth and their families," Rod Santiago, Executive Director, Abbotsford Community Services.
When federal funding for the Abbotsford gang-prevention program was set to expire September 30, 2018, United Way committed $100,000 to keep the program open for local youth. On April 23, the Province announced further investments in gang-prevention programs, including $977,966 for the In It Together program.
One hundred per cent of United Way donations raised in the Fraser Valley, stay in the Fraser Valley. This additional investment in In It Together was made possible by the generosity of United Way donors who gave during the 2018 United Way campaign.
With its Fraser Valley office at Sweeney Neighbourhood Centre, United Way is embedded in Abbotsford and throughout the Fraser Valley. This allows it to be responsive to the issues that matter most to residents of this region.
Successes of the In It Together program include:
• 427 youth participants (ages 12 – 30) supported since April 1, 2014.
• Over 1,100 parents, grandparents, and guardians of youth at-risk of gangs supported.
• Over 95% engagement rate (participants become involved and stay involved long term).
• 54% decrease in total risk scores after 20 months.
United Way and the Fraser Valley
• In 2017 United Way of the Lower Mainland joined with United Way Fraser Valley.
• United Way now serves the Lower Mainland, Sea to Sky corridor, Sunshine Coast and the Fraser Valley from Abbotsford to Boston Bar.
• United Way invested over $1.4 million in the Fraser Valley in 2018-19, made possible by local donors, government and other partners. This includes United Way's first $100,000 investment in the In It Together program, announced October 2018.