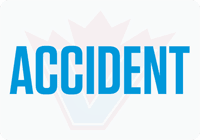 FOUR people have been taken to hospital for medical assessment following a multi-vehicle collision on Saturday on Main Street involving a suspected stolen pick-up truck. The Vancouver Police Collision Investigation Unit is working to determine what may have led to the collision.
Just after 5 p.m., officers using their lights and sirens attempted to pull over a suspected stolen pick-up truck on Main near Pender. The driver chose not to comply and fled south on Main. Out of concern for public safety, the officers made the decision not to pursue the truck.
A short time later, the pick-up collided with a white Ford Focus on Main Street at Prior before bouncing into vehicles parked along the east side of Main Street. The two occupants of the pick-up were arrested at the scene and then transported to hospital by ambulance for medical assessment.
At least two other people involved in the collision were taken to hospital with what are believed to be non-life-threatening injuries.
It is still very early in the investigation and there is limited information available at this time, a police spokesperson said.
The Independent Investigations Office of BC (IIO) has been notified and is monitoring the investigation.