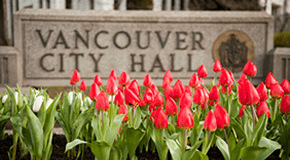 THREE City of Vancouver-run community centres have partially re-opened on Wednesday after having to significantly reduce programs and services in response to COVID-19.
Carnegie, Evelyne Saller and Gathering Place Community Centres all reopened Wednesday morning and are now providing limited drop-in space and increased washroom access.
"Reopening these community centres is a very positive step as they provide much-needed services and social connections for many of our residents," said Sandra Singh, the City's General Manager of Arts, Culture and Community Services.
"Since the start of the pandemic, staff at the centres have worked hard to continue delivering essential services to our patrons, including more than 128,000 nutritious, low-cost take-out meals, 6,500 safe and warm showers and 5,300 loads of laundry. While the centres will look and feel different than prior to COVID-19, we are looking forward to welcoming community members back in modified ways and offering services such as access to wifi and mobile programming," Singh added.
In addition to continuing to provide support for basic needs during the pandemic, the City also installed outdoor eating and seating parklets outside Gathering Place and Evelyne Saller, distributed 750 meals and cultural and historic publications for Asian Heritage Month, and Carnegie staged the first virtual celebrations for National Indigenous Peoples Day.
All three centres are open every day for the following hours:
* Carnegie Community Centre – 9 a.m.-8 p.m.
* Gathering Place Community Centre – 9 a.m.-8 p.m.
* Evelyne Saller Community Centre – 9:15 a.m.-8 p.m.
Timings for meals, laundry and showers can be found at https://vancouver.ca/home-property-development/coronavirus-whats-closed-affected-or-still-open.aspx.
All three facilities have been inspected by public health officials and approved as having met or exceeded standards for reopening, although drop-ins will be limited in order to meet capacity restrictions. This is the first phase of reopening at the centres and, in the coming months, additional programs and services will become available as health guidelines allow.