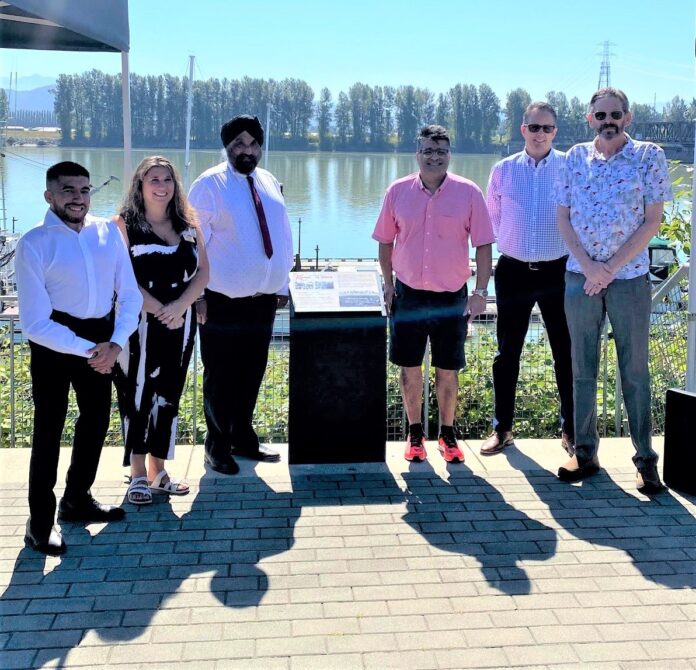 A new sign in Jack Poole Waterfront Park shares the story of the Komagata Maru tragedy and encourages residents to reflect on this history and strive for an inclusive society for all, the City of Mission announced on Wednesday.
The Komagata Maru was a chartered Japanese steamship enroute to British Columbia carrying 376 passengers of mostly Sikhs and some Hindus and Muslims from the Punjab region of India.
In May 1914, when the ship arrived in Vancouver, the passengers were refused entry to Canada due to a January 8, 1908 regulation that denied entry to immigrants unless they had $200 and had made a "continuous journey" from their home country. This condition would have been almost impossible for immigrants from India to meet.
The sign exploring this story was unveiled in a small ceremony on Wednesday morning. The ceremony began with a prayer led by the Mission Temple.
"While the Komagata Maru event didn't happen within the boundaries of our City, it did touch our community," said Mission Mayor Paul Horn. "In the Fraser Valley, South Asian settlers had already established themselves as key members of our community. They came together and took action to support those on the Komagata Maru. Over the generations, the South Asian diaspora has come together in this way on countless occasions, playing a role in creating the economically, socially, and culturally robust Mission we know today."
"This plaque will provide an education for many who may walk in this plaza, increasing further dialogue, and how we can build an inclusive community and stop hate and discrimination in the process," said Councillor Ken Herar. "Even though this incident took place over 100 years ago in 1914 and didn't happen on these shores, it serves as a gentle reminder that more work needs to be done within our understanding of each other."
"Komagata Maru interpretive sign in Mission is a great tribute to those passengers who suffered a lot during the tragedy," said Raj Singh Toor of the Descendants of the Komagata Maru Society. "We can't undo the past, but we can move forward and leave a legacy for future generations by educating them about the past and create a legacy of acceptance for future generations."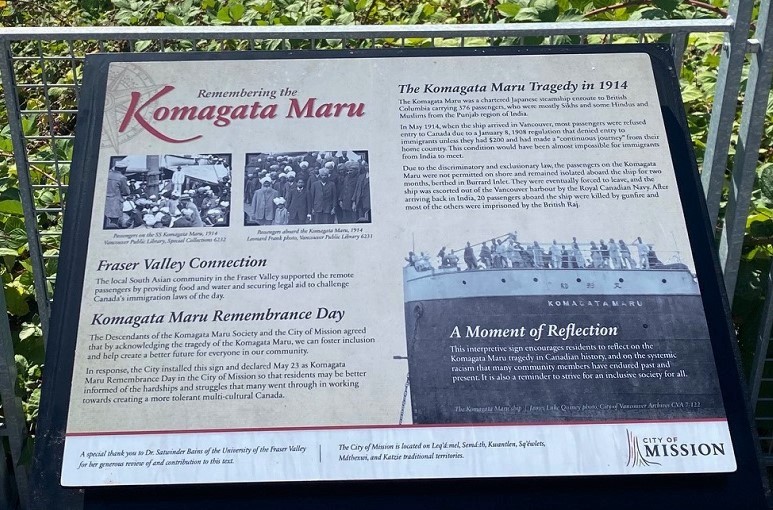 The City of Mission said it would like to thank Dr. Satwinder Bains and the Heritage Advisory Committee for their support in seeing this sign come to life.
"It has been a privilege to work alongside these distinguished people to help Raj Toor and the Descendants of the Komagata Maru Society further their cause," said Ken Hood, Chair of the Heritage Advisory Committee. "I would like to give special acknowledgment to the following people who were present during our initial discussions surrounding the Komagata Maru tragedy: Mike Dickinson, Shelley Carter, Charlotte Lightburn, Councillor Ken Herar, Councillor Gill, Dr. Satwinder Bains, and Raj Toor."
The sign includes photos of the passengers aboard the Komagata Maru sourced from the Vancouver Public Library's Special Collections and Archives.
Residents and visitors are invited to visit the new sign in Jack Poole Waterfront Park.