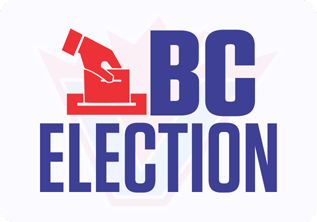 FINAL voting results will be available after final count is complete in an electoral district.
Read about final count.
When a district has finished counting a type of absentee ballot, they will report results for that type of ballot. Districts will also report results for the mail-in ballots they have counted around 6 p.m. each day, or sooner if they finish counting their mail-in ballots before 6 p.m. Elections BC is updating results every three minutes and the following is as of Saturday, November 7 at 4:39 p.m.
Electoral District
Candidate's Ballot Name
Affiliation
Total Valid Votes
% of Popular Vote
Abbotsford-Mission
Aeriol Alderking
Christian Heritage Party of B.C.
595
2.36%
Pam Alexis
BC NDP
10,364
41.07%
Stephen Fowler
BC Green Party
2,667
10.57%
Simon Gibson
BC Liberal Party
9,620
38.12%
Trevor Hamilton
Conservative
1,989
7.88%
25,235
100%
Abbotsford South
Bruce Banman
BC Liberal Party
9,730
44.69%
Aird Flavelle
BC Green Party
2,617
12.02%
Inder Johal
BC NDP
7,706
35.39%
Laura-Lynn Thompson
Christian Heritage Party of B.C.
1,720
7.90%
21,773
100%
Abbotsford West
Michael de Jong
BC Liberal Party
8,880
45.51%
Kevin Eastwood
BC Green Party
1,671
8.56%
Sukhi Gill
B.C. Vision
75
0.38%
Michael Henshall
Conservative
1,766
9.05%
Preet Rai
BC NDP
7,119
36.49%
19,511
100%
Boundary-Similkameen
Arlyn Greig
Wexit BC
474
2.25%
Roly Russell
BC NDP
10,500
49.85%
Darryl Seres
Conservative
2,354
11.18%
Petra Veintimilla
BC Liberal Party
7,735
36.72%
21,063
100%
Burnaby-Deer Lake
Glynnis Hoi Sum Chan
BC Liberal Party
3,868
32.86%
Mehreen Chaudry
BC Green Party
1,409
11.97%
Anne Kang
BC NDP
6,493
55.17%
11,770
100%
Burnaby-Edmonds
Tripat Atwal
BC Liberal Party
4,754
26.65%
Raj Chouhan
BC NDP
11,063
62.01%
Iqbal Parekh
BC Green Party
2,023
11.34%
17,840
100%
Burnaby-Lougheed
Katrina Chen
BC NDP
12,574
60.25%
Tariq Malik
BC Liberal Party
5,386
25.81%
Dominique Paynter
Libertarian
281
1.35%
Andrew Williamson
BC Green Party
2,628
12.59%
20,869
100%
Burnaby North
Raymond Dong
BC Liberal Party
6,846
30.69%
Janet Routledge
BC NDP
12,894
57.80%
Norine Shim
BC Green Party
2,568
11.51%
22,308
100%
Cariboo-Chilcotin
Scott Andrews
BC NDP
4,180
32.46%
James Buckley
Libertarian
263
2.04%
Lorne Doerkson
BC Liberal Party
6,600
51.25%
David Laing
BC Green Party
1,379
10.71%
Katya Potekhina
Independent
457
3.55%
12,879
100%
Cariboo North
Scott Elliott
BC NDP
3,809
34.36%
Douglas Gook
BC Green Party
707
6.38%
Coralee Oakes
BC Liberal Party
5,367
48.42%
Kyle Townsend
Conservative
1,201
10.84%
11,084
100%
Chilliwack
Josue Anderson
Independent
246
1.54%
Andrew Coombes
Libertarian
172
1.08%
Tim Cooper
BC Green Party
1,702
10.65%
Dan Coulter
BC NDP
6,552
41.00%
Diane Janzen
Conservative
2,703
16.91%
John Martin
BC Liberal Party
4,605
28.82%
15,980
100%
Chilliwack-Kent
Eli Gagné
Libertarian
278
1.22%
Jeff Hammersmark
BC Green Party
1,822
8.03%
Jason Lum
Independent
5,370
23.65%
Kelli Paddon
BC NDP
8,268
36.42%
Laurie Throness
BC Liberal Party
6,964
30.68%
22,702
100%
Columbia River-Revelstoke
Samson Boyer
BC Green Party
1,904
13.00%
Nicole Cherlet
BC NDP
5,708
38.97%
Doug Clovechok
BC Liberal Party
7,034
48.03%
14,646
100%
Coquitlam-Burke Mountain
Adam Bremner-Akins
BC Green Party
2,033
8.85%
Fin Donnelly
BC NDP
12,627
54.94%
Joan Isaacs
BC Liberal Party
8,324
36.22%
22,984
100%
Coquitlam-Maillardville
Will Davis
BC Liberal Party
5,882
28.60%
Selina Robinson
BC NDP
12,278
59.70%
Nicola Spurling
BC Green Party
2,405
11.69%
20,565
100%
Courtenay-Comox
Gillian Anderson
BC Green Party
5,073
19.87%
Brennan Day
BC Liberal Party
7,686
30.10%
Ronna-Rae Leonard
BC NDP
12,773
50.03%
25,532
100%
Cowichan Valley
Rob Douglas
BC NDP
11,875
40.20%
Sonia Furstenau
BC Green Party
13,059
44.21%
Tanya Kaul
BC Liberal Party
4,606
15.59%
29,540
100%
Delta North
Ravi Kahlon
BC NDP
12,215
56.78%
Neema Manral
BC Green Party
2,120
9.85%
Jet Sunner
BC Liberal Party
7,179
33.37%
21,514
100%
Delta South
Ian Paton
BC Liberal Party
12,828
51.70%
Bruce Reid
BC NDP
8,404
33.87%
Peter van der Velden
BC Green Party
3,581
14.43%
24,813
100%
Esquimalt-Metchosin
Mitzi Dean
BC NDP
15,070
59.32%
Andy MacKinnon
BC Green Party
6,140
24.17%
Desta McPherson
Independent
254
1.00%
RJ Senko
BC Liberal Party
3,940
15.51%
25,404
100%
Fraser-Nicola
Dennis Adamson
Independent
438
3.20%
Mike Bhangu
Independent
343
2.51%
Aaron Sumexheltza
BC NDP
5,414
39.58%
Jackie Tegart
BC Liberal Party
5,696
41.64%
Jonah Timms
BC Green Party
1,788
13.07%
13,679
100%
Kamloops-North Thompson
Dennis Giesbrecht
Conservative
1,848
8.59%
Sadie Hunter
BC NDP
8,489
39.48%
Thomas Martin
BC Green Party
2,113
9.83%
Peter Milobar
BC Liberal Party
8,905
41.42%
Brandon Russell
Independent
146
0.68%
21,501
100%
Kamloops-South Thompson
Dan Hines
BC Green Party
3,558
16.65%
Todd Graham Stone
BC Liberal Party
11,115
52.02%
Anna Thomas
BC NDP
6,693
31.33%
21,366
100%
Kelowna-Lake Country
Kyle Geronazzo
Libertarian
515
1.96%
John Janmaat
BC Green Party
3,833
14.55%
Justin Kulik
BC NDP
7,121
27.04%
Norm Letnick
BC Liberal Party
14,679
55.73%
Silverado Brooks Socrates
Independent
190
0.72%
26,338
100%
Kelowna-Mission
Renee Merrifield
BC Liberal Party
13,483
50.76%
Amanda Poon
BC Green Party
4,476
16.85%
Krystal Smith
BC NDP
8,605
32.39%
26,564
100%
Kelowna West
Matt Badura
Libertarian
474
1.82%
Spring Hawes
BC NDP
8,854
34.00%
Magee Mitchell
Independent
446
1.71%
Ben Stewart
BC Liberal Party
12,991
49.89%
Peter A. Truch
BC Green Party
3,274
12.57%
26,039
100%
Kootenay East
Tom Shypitka
BC Liberal Party
9,897
57.90%
Wayne Stetski
BC NDP
5,499
32.17%
Kerri Wall
BC Green Party
1,697
9.93%
17,093
100%
Kootenay West
Glen Byle
Conservative
1,447
8.18%
Katrine Conroy
BC NDP
10,822
61.15%
Andrew Duncan
BC Green Party
3,040
17.18%
Corbin Kelley
BC Liberal Party
1,975
11.16%
Fletcher Quince
Independent
189
1.07%
Ed Varney
Independent
224
1.27%
17,697
100%
Langford-Juan de Fuca
Gord Baird
BC Green Party
3,280
17.74%
Kelly Darwin
BC Liberal Party
2,953
15.97%
John Horgan
BC NDP
12,158
65.74%
Tyson Riel Strandlund
Communist Party of BC
103
0.56%
18,494
100%
Langley
Shelly Jan
Conservative
1,699
8.60%
Bill Masse
BC Green Party
2,077
10.52%
Andrew Mercier
BC NDP
9,358
47.39%
Mary Polak
BC Liberal Party
6,611
33.48%
19,745
100%
Langley East
Megan Dykeman
BC NDP
9,183
39.80%
Alex Joehl
Libertarian
206
0.89%
Margaret Kunst
BC Liberal Party
8,022
34.77%
Tara Reeve
Independent
181
0.78%
Ryan Warawa
Conservative
2,890
12.52%
Cheryl Wiens
BC Green Party
2,592
11.23%
23,074
100%
Maple Ridge-Mission
Bob D'Eith
BC NDP
11,788
54.09%
Chelsa Meadus
BC Liberal Party
7,544
34.62%
Matt Trenholm
BC Green Party
2,460
11.29%
21,792
100%
Maple Ridge-Pitt Meadows
Cheryl Ashlie
BC Liberal Party
9,163
36.59%
Lisa Beare
BC NDP
15,877
63.41%
25,040
100%
Mid Island-Pacific Rim
Robert Alexander Clarke
Libertarian
370
1.51%
Graham Hughes
Independent
610
2.48%
Evan Jolicoeur
BC Green Party
4,991
20.32%
Josie Osborne
BC NDP
14,298
58.22%
Helen Poon
BC Liberal Party
4,291
17.47%
24,560
100%
Nanaimo
Kathleen Jones
BC Liberal Party
4,531
23.61%
Sheila Malcolmson
BC NDP
10,106
52.65%
Lia Marie Constance Versaevel
BC Green Party
4,556
23.74%
19,193
100%
Nanaimo-North Cowichan
Chris Istace
BC Green Party
6,202
31.10%
Duck (don) Paterson
BC Liberal Party
4,100
20.56%
Doug Routley
BC NDP
9,639
48.34%
19,941
100%
Nechako Lakes
Margo Maley
Independent
368
4.17%
Jon Rempel
Libertarian
403
4.57%
John Rustad
BC Liberal Party
4,611
52.24%
Anne Marie Sam
BC NDP
3,031
34.34%
Dan Stuart
Christian Heritage Party of B.C.
413
4.68%
8,826
100%
Nelson-Creston
Brittny Anderson
BC NDP
7,296
41.78%
Nicole Charlwood
BC Green Party
5,611
32.13%
Tanya Finley
BC Liberal Party
4,171
23.89%
Terry Tiessen
Libertarian
384
2.20%
17,462
100%
New Westminster
Lorraine Brett
BC Liberal Party
4,291
16.26%
Benny Ogden
Conservative
912
3.46%
Cyrus Sy
BC Green Party
5,020
19.02%
Jennifer Whiteside
BC NDP
15,903
60.25%
Donald Wilson
Libertarian
269
1.02%
26,395
100%
North Coast
Jody Craven
Libertarian
267
4.28%
Roy S Jones Jr
BC Liberal Party
1,429
22.90%
Jennifer Rice
BC NDP
4,544
72.82%
6,240
100%
North Island
Michele Babchuk
BC NDP
9,779
48.66%
Norm Facey
BC Liberal Party
4,864
24.21%
Alexandra Morton
BC Green Party
4,138
20.59%
John Twigg
Conservative
1,314
6.54%
20,095
100%
North Vancouver-Lonsdale
Lyn Anglin
BC Liberal Party
7,274
27.43%
Christopher Hakes
BC Green Party
3,369
12.70%
Bowinn Ma
BC NDP
15,878
59.87%
26,521
100%
North Vancouver-Seymour
Susie Chant
BC NDP
12,891
46.84%
Harrison Johnston
BC Green Party
4,514
16.40%
Jane Thornthwaite
BC Liberal Party
9,827
35.70%
Clayton Welwood
Libertarian
291
1.06%
27,523
100%
Oak Bay-Gordon Head
Florian Castle
Communist Party of BC
96
0.56%
Nicole Duncan
BC Green Party
4,775
27.99%
Roxanne Helme
BC Liberal Party
4,025
23.59%
Murray Rankin
BC NDP
8,165
47.86%
17,061
100%
Parksville-Qualicum
Rob Lyon
BC Green Party
3,716
17.75%
Don Purdey
Conservative
1,095
5.23%
John St John
Independent
402
1.92%
Michelle Stilwell
BC Liberal Party
7,321
34.97%
Adam Walker
BC NDP
8,400
40.13%
20,934
100%
Peace River North
Trevor Bolin
Conservative
4,150
34.30%
Dan Davies
BC Liberal Party
6,746
55.76%
Danielle Monroe
BC NDP
1,202
9.94%
12,098
100%
Peace River South
Mike Bernier
BC Liberal Party
3,862
51.19%
Kathleen Connolly
Conservative
2,303
30.53%
Cory Grizz Longley
BC NDP
1,180
15.64%
Dorothy Sharon Smith
Wexit BC
199
2.64%
7,544
100%
Penticton
Dan Ashton
BC Liberal Party
11,759
48.09%
Toni Boot
BC NDP
9,225
37.73%
Keith MacIntyre
Libertarian
692
2.83%
Ted Shumaker
BC Green Party
2,775
11.35%
24,451
100%
Port Coquitlam
Lewis Clarke Dahlby
Libertarian
563
2.35%
Mike Farnworth
BC NDP
15,370
64.14%
Erik Minty
BC Green Party
3,023
12.61%
Mehran Zargham
BC Liberal Party
5,009
20.90%
23,965
100%
Port Moody-Coquitlam
Brandon Fonseca
Conservative
800
3.36%
Rick Glumac
BC NDP
12,783
53.75%
John Latimer
BC Green Party
2,802
11.78%
James Robertson
BC Liberal Party
7,253
30.50%
Logan Smith
Libertarian
144
0.61%
23,782
100%
Powell River-Sunshine Coast
Kim Darwin
BC Green Party
6,674
34.05%
Nicholas Simons
BC NDP
9,633
49.15%
Sandra Stoddart-Hansen
BC Liberal Party
3,293
16.80%
19,600
100%
Prince George-Mackenzie
Joan Atkinson
BC NDP
5,717
33.99%
Catharine Kendall
BC Green Party
1,935
11.51%
Dee Kranz
Christian Heritage Party of B.C.
336
2.00%
Mike Morris
BC Liberal Party
8,543
50.80%
Raymond Rodgers
Libertarian
287
1.71%
16,818
100%
Prince George-Valemount
Shirley Bond
BC Liberal Party
9,703
55.62%
MacKenzie Kerr
BC Green Party
2,597
14.89%
Laura Parent
BC NDP
4,717
27.04%
Sean Robson
Libertarian
428
2.45%
17,445
100%
Richmond North Centre
Jaeden Dela Torre
BC NDP
5,964
39.83%
Vernon Wang
BC Green Party
1,333
8.90%
Teresa Wat
BC Liberal Party
7,675
51.26%
14,972
100%
Richmond-Queensborough
Earl Einarson
BC Green Party
1,496
7.58%
Kay Hale
Conservative
1,108
5.61%
Jas Johal
BC Liberal Party
7,728
39.15%
Aman Singh
BC NDP
9,406
47.65%
19,738
100%
Richmond South Centre
Alexa Loo
BC Liberal Party
6,564
49.33%
Henry Yao
BC NDP
6,743
50.67%
13,307
100%
Richmond-Steveston
Kelly Greene
BC NDP
10,733
52.07%
Vince Li
Independent
483
2.34%
Matt Pitcairn
BC Liberal Party
9,398
45.59%
20,614
100%
Saanich North and the Islands
Zeb King
BC NDP
6,943
28.35%
Adam Olsen
BC Green Party
12,926
52.79%
Stephen P Roberts
BC Liberal Party
4,619
18.86%
24,488
100%
Saanich South
Kate O'Connor
BC Green Party
3,882
21.43%
Lana Popham
BC NDP
9,569
52.82%
Rishi Sharma
BC Liberal Party
4,666
25.75%
18,117
100%
Shuswap
Greg Kyllo
BC Liberal Party
13,300
51.35%
Sylvia Lindgren
BC NDP
8,816
34.04%
Owen Madden
BC Green Party
3,784
14.61%
25,900
100%
Skeena
Nicole Halbauer
BC NDP
4,961
44.45%
Martin Holzbauer
Independent
389
3.49%
Ellis Ross
BC Liberal Party
5,810
52.06%
11,160
100%
Stikine
Nathan Cullen
BC NDP
3,745
51.77%
Darcy Repen
Rural BC Party
754
10.42%
Gordon Sebastian
BC Liberal Party
1,904
26.32%
Rod Taylor
Christian Heritage Party of B.C.
831
11.49%
7,234
100%
Surrey-Cloverdale
Aisha Rehana Bali
Conservative
744
3.91%
Marvin Hunt
BC Liberal Party
6,786
35.66%
Rebecca Smith
BC Green Party
1,671
8.78%
Mike Starchuk
BC NDP
9,699
50.97%
Marcella Williams
Independent
129
0.68%
19,029
100%
Surrey-Fleetwood
Jagrup Brar
BC NDP
11,457
60.93%
Dean McGee
BC Green Party
1,571
8.35%
Garry Thind
BC Liberal Party
5,776
30.72%
18,804
100%
Surrey-Green Timbers
Dilraj Atwal
BC Liberal Party
5,540
40.41%
Rachna Singh
BC NDP
8,171
59.59%
13,711
100%
Surrey-Guildford
Garry Begg
BC NDP
10,403
60.59%
Dave Hans
BC Liberal Party
5,139
29.93%
Sam Kofalt
Independent
282
1.64%
Jodi Murphy
BC Green Party
1,345
7.83%
17,169
100%
Surrey-Newton
Harry Bains
BC NDP
8,893
62.64%
Paul Boparai
BC Liberal Party
3,911
27.55%
Asad Syed
BC Green Party
1,393
9.81%
14,197
100%
Surrey-Panorama
Gulzar Cheema
BC Liberal Party
9,607
42.89%
Sophie Shrestha
B.C. Vision
458
2.04%
Jinny Sims
BC NDP
12,336
55.07%
22,401
100%
Surrey South
Stephanie Cadieux
BC Liberal Party
12,970
47.36%
Pauline Greaves
BC NDP
11,794
43.06%
Tim Ibbotson
BC Green Party
2,623
9.58%
27,387
100%
Surrey-Whalley
Ryan Abbott
Communist Party of BC
206
1.42%
Jag Bhandari
B.C. Vision
218
1.50%
Shaukat Khan
BC Liberal Party
3,858
26.56%
Bruce Ralston
BC NDP
10,242
70.52%
14,524
100%
Surrey-White Rock
Jason Bax
Libertarian
379
1.98%
Trevor Halford
BC Liberal Party
7,741
40.45%
Beverly (Pixie) Hobby
BC Green Party
2,812
14.69%
Megan Knight
Independent
1,215
6.35%
Bryn Smith
BC NDP
6,990
36.53%
19,137
100%
Vancouver-Fairview
George Affleck
BC Liberal Party
5,086
27.70%
Sandra Filosof-Schipper
Libertarian
194
1.06%
Ian Goldman
BC Green Party
3,190
17.37%
George Heyman
BC NDP
9,893
53.87%
18,363
100%
Vancouver-False Creek
Brenda Bailey
BC NDP
9,827
46.22%
Naomi Chocyk
Libertarian
270
1.27%
Erik Gretland
Conservative
433
2.04%
Maayan Kreitzman
BC Green Party
2,744
12.91%
Sam Sullivan
BC Liberal Party
7,988
37.57%
21,262
100%
Vancouver-Fraserview
George Chow
BC NDP
12,247
56.37%
David Grewal
BC Liberal Party
7,511
34.57%
Françoise Raunet
BC Green Party
1,969
9.06%
21,727
100%
Vancouver-Hastings
Gölök Z Buday
Libertarian
321
1.45%
Bridget Burns
BC Green Party
4,312
19.54%
Kimball Cariou
Communist Party of BC
184
0.83%
Alex Read
BC Liberal Party
3,885
17.61%
Niki Sharma
BC NDP
13,362
60.56%
22,064
100%
Vancouver-Kensington
Mable Elmore
BC NDP
12,481
59.97%
Paul Lepage
BC Liberal Party
5,255
25.25%
Nazanin Moghadami
BC Green Party
2,874
13.81%
Salvatore Vetro
Independent
202
0.97%
20,812
100%
Vancouver-Kingsway
Cole Anderson
BC Liberal Party
3,919
21.61%
Scott Bernstein
BC Green Party
1,662
9.16%
Adrian Dix
BC NDP
12,297
67.81%
Karin Litzcke
Libertarian
257
1.42%
18,135
100%
Vancouver-Langara
Stephanie Hendy
BC Green Party
1,276
9.49%
Michael Lee
BC Liberal Party
6,458
48.04%
Paul Matthews
Libertarian
185
1.38%
Tesicca Chi-Ying Truong
BC NDP
5,523
41.09%
13,442
100%
Vancouver-Mount Pleasant
Melanie Mark
BC NDP
14,530
66.95%
Kelly Tatham
BC Green Party
4,356
20.07%
George Vassilas
BC Liberal Party
2,816
12.98%
21,702
100%
Vancouver-Point Grey
Mark Bowen
BC Liberal Party
5,790
32.54%
David Eby
BC NDP
8,765
49.26%
Devyani Singh
BC Green Party
3,237
18.19%
17,792
100%
Vancouver-Quilchena
Michael Barkusky
BC Green Party
2,365
16.48%
Heather McQuillan
BC NDP
4,011
27.96%
Andrew Wilkinson
BC Liberal Party
7,971
55.56%
14,347
100%
Vancouver-West End
Spencer Chandra Herbert
BC NDP
12,439
62.31%
Jon Ellacott
BC Liberal Party
4,014
20.11%
James Marshall
BC Green Party
3,250
16.28%
Kim McCann
Libertarian
259
1.30%
19,962
100%
Vernon-Monashee
Kyle Delfing
Conservative
3,124
13.89%
Eric Foster
BC Liberal Party
7,844
34.89%
Harwinder Sandhu
BC NDP
7,894
35.11%
Keli Westgate
BC Green Party
3,621
16.11%
22,483
100%
Victoria-Beacon Hill
Karen Bill
BC Liberal Party
3,907
14.37%
Grace Lore
BC NDP
14,675
53.97%
Jenn Neilson
BC Green Party
8,316
30.58%
Jordan Reichert
Independent
295
1.08%
27,193
100%
Victoria-Swan Lake
Rob Fleming
BC NDP
7,192
42.34%
Annemieke Holthuis
BC Green Party
6,700
39.44%
Walt Parsons
Communist Party of BC
107
0.63%
Jenn Smith
Independent
244
1.44%
David Somerville
BC Liberal Party
2,743
16.15%
16,986
100%
West Vancouver-Capilano
Amelia Hill
BC NDP
7,194
30.25%
Karin Kirkpatrick
BC Liberal Party
12,734
53.55%
Rasoul Narimani
BC Green Party
3,664
15.41%
Anton Shendryk
Independent
186
0.78%
23,778
100%
West Vancouver-Sea to Sky
Keith Murdoch
BC NDP
6,174
25.13%
Jordan Sturdy
BC Liberal Party
9,216
37.52%
Jeremy Valeriote
BC Green Party
9,175
37.35%
24,565
100%