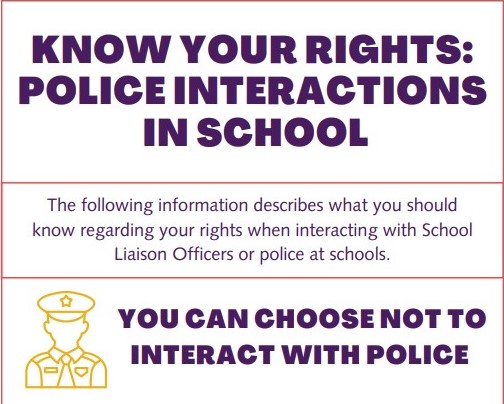 THE BC Civil Liberties Association (BCCLA) has launched a new resource designed to support students who are faced with a return of the School Liaison Officer (SLO) Program, or police in their schools. This new fact sheet contains information for youth rights related to searches and privacy, information on filing a human rights complaint, and safety tips for interacting with police at school.
The BCCLA says it is outraged that the Vancouver School Board (VSB), the Vancouver Police Department (VPD), and the City of Vancouver have returned police to schools after a successful campaign led predominantly by BIPOC community members caused the program to be scrapped only two years ago. It claims that police in schools pose real and measurable threats to students from heavily policed communities, including Black, Indigenous, and other people of colour, students with disabilities, those with mental health challenges, students with precarious immigration status and 2SLGBTQI+ youth.
"We are calling upon the province to heed the calls of the Office of the Human Rights Commissioner of BC ("Commissioner") to end any SLO program in any public school district unless and until they can demonstrate an evidence-based need for them that cannot be met through other services. This key recommendation was made by the Commissioner in her 2021 submissions to the Police Act special legislative committee review process, and again expressed directly to all BC School Trustees in a 2022 letter," says the BCCLA.
"It's deeply disturbing to see this level of disregard for human rights and evidence-based policy by so many public officials and bodies," said Meghan McDermott, Policy Director of the BCCLA, on Monday. "It is unacceptable to subject youth in Vancouver and across BC to these policing programs in educational settings, and the least we can do is to empower these students and their families through these legal information resources."