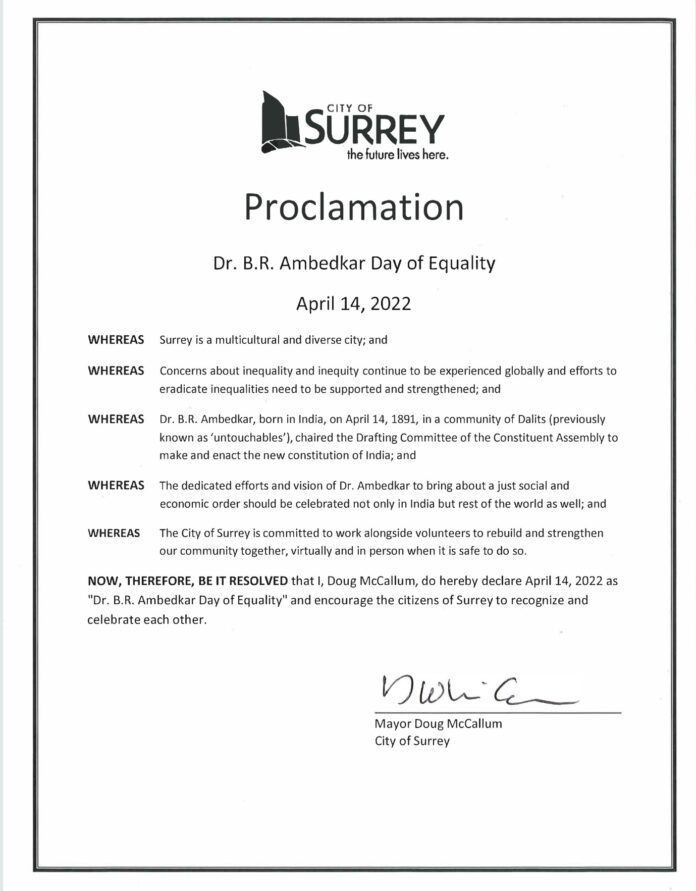 THE City of Surrey this week joined the province of B.C. and the City of Burnaby in proclaiming April 14, 2022, as Dr. B.R. Ambedkar Day of Equality.
Surrey Councillor Laurie Guerra read out the proclamation signed by Surrey Mayor Doug McCallum.
The Proclamation reads:
WHEREAS Surrey is a multicultural and diverse city; and
WHEREAS Concerns about inequality and inequity continue to be experienced globally and efforts to eradicate inequalities need to be supported and strengthened; and
WHEREAS Dr. B.R. Ambedkar, born in India, on April 14, 1891, in a community of Dalits (previously known as 'untouchables'), chaired the Drafting Committee of the Constituent Assembly to make and enact the new constitution of India; and
WHEREAS The dedicated efforts and vision of Dr. Ambedkar to bring about a just social and economic order should be celebrated not only in India but rest of the world as well; and
WHEREAS The City of Surrey is committed to work alongside volunteers to rebuild and strengthen our community together, virtually and in person when it is safe to do so.
NOW, THEREFORE BE IT RESOLVED that I, Doug McCallum, do hereby declare April 14, 2022 as "Dr. B.R. Ambedkar Day of Equality" and encourage the citizens of Surrey to recognize and celebrate each other.