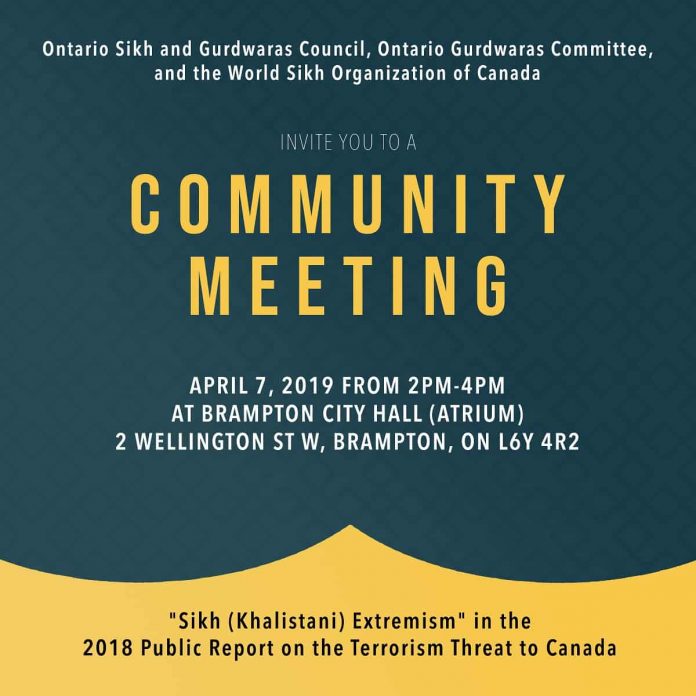 THE Ontario Sikh and Gurdwaras Council and the Ontario Gurdwaras Committee in partnership with the World Sikh Organization of Canada will be hosting a community meeting on April 7, 2-4 p.m., at Brampton City Hall (Atrium) located at 2 Wellington Street West, Brampton, on the inclusion of "Sikh (Khalistani) Extremism" in the 2018 Public Report on the Terrorism Threat to Canada.
Community members will be invited to discuss the impact this section has had on them and the image of Canadian Sikhs as whole. Members of Parliament and elected officials from across the Greater Toronto Area have also been invited to hear the conversations that will take place and also to provide an update to the community as to steps that have been taken to address the concerns that have been expressed and any results that have been achieved.
The 2018 Public Safety Report, which was met with widespread criticism for references to religious communities, included no particular details or evidence of any alleged rise in Sikh extremism in Canada and as such was offensive to Sikh Canadians. Despite a meeting of Sikh representatives with Public Safety Minister Ralph Goodale on January 21, no changes to the report have been made.
After over three months of waiting, the Sikh community continues to press for accountability and answers and this meeting will be a next step in calling for answers from the Government of Canada.